If you have uploaded a file from the Internet to Google Drive, the first thing you need to do is Download that file to your computer, then Upload it back to Google Drive. So you have to go through 2 very time consuming stages, and Download / Upload bandwidth. One solution for you to Upload File from URL to Google Drive without Downloading to your computer is to use 3rd party Script.
Join the channel

Telegram

belong to

AnonyViet

? Link ?
This is a tool that allows you to save and extract any URL directly to Google Drive. This application uses Google Apps Script on Google Cloud. Transfer files from URL to Google Drive at lightning speed (depending on URL's transmission). If you're worried about your home Internet being slow, this shouldn't be a problem. Since the data will be transferred directly from the URL to the Drive, it will not affect your home transmission. If you select a file from Google Drive, you can "Make a copy", "Copy folder" or Unzip, Un7z, Untar to any folder.
How to Upload File from URL to Google Drive without downloading to computer
You can save any file from the Internet to Google Drive without downloading it to your computer. The allows you to save files, Slack, WebDAV directly to the Google Drive folder. You can Upload files with unlimited size (1M ~ GB, can be TB). This application only works locally without going through the server, so you can transfer any file from the URL (public, not public) to Google Drive.
There are many Websites that support Uploading Files from URLs to Google Drive. Eg:
Grant Auth Code permission for Website Upload
To get things done Upload directly from the Website Google Drive, you need to grant API permission. Follow the steps below:
Step 1: Select Select a file, folder from Google Drive. If it's your first time you have to authenticate your Google account.
Step 2: Click on Login & Authorize to get the Auth Code
Step 3: Log in Go to app permissions
Step 4: You will get Auth CodeCopy this code into the empty box at Step 2 and press Login
Upload Files from Other Websites to Google Drive
Step 5: You come back Step 1and select New URL. In there:
File URL: the website path containing the file to be uploaded to Google Drive
Target Folder: The folder on Google Drive will contain the file uploaded from the URL
FileName to be saved: Name the file saved on Google Drive
Click on Save, Copy to Google Drive
Step 6: A window will appear asking you to review the permissions granted to the Website. Click on Review Permissions -> Allow
Select Allow to grant permissions.
Now will see the process of Uploading from File from another Website to Google Drive quickly. If successful, a message will be displayed File saved successfully.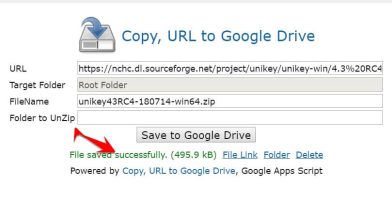 So with just a few simple steps you can Upload files from other Websites to Drive without downloading to your computer. The authorization process only takes place once, the next time you just need to choose the URL and Upload it. After Uploading the file to Drive, you can Deauthorization for Website Upload by going to this link. Select App and Remove. That way, you won't be afraid of your account being exposed, or being illegally compromised