Is your SD memory card write protected? Do you know how to remove write protection from USB or external/internal hard drive and get all data back? Follow this article to unlock your storage devices and repair write-protected hard drives, USB or SD cards.. on Windows 10/8/7 without losing any data.
Join the channel

Telegram

belong to

AnonyViet

? Link ?
Memory card write protection SD means you cannot make any changes in the SD card like adding new files and deleting existing files…
How to turn off write protection (write protected) on memory cards, USB, hard drives
Case 1: My SD card shows up as "write protected" on the computer. I cannot access any data on the card. How to copy data to the device?
Case 2: Do you know how to remove write protection? "write protected" from USB or external hard drive?
Case 3: Strangely, my hard drive is protected mode enabled for no reason at all. Do you know how to disable write protection on Windows 10?
Do you have this problem when your removable storage devices such as external hard drives, USB flash drives, SD cards or Windows hard drives in Windows 10/8/7 suddenly become corrupted. "write protected" Can't copy data? The data on your hard drive cannot be accessed with the write protected. So how to fix the situation of not being able to copy files to the memory card, usb without losing data? Don't worry if you have this problem. Please see the step-by-step instructions below.
Method 1: Turn off the Unlock anti-write button on the memory card
On some SD memory cards, the old USB you notice on the side will have a small slot. You push the lever up is Lock (write-protection lock), push down is Unlock
| | |
| --- | --- |
| Memory card anti-write lock | USB write-protect lock |
This will help you unlock USB or SD memory card to remove write protection. And you won't lose any data on your USB stick.
Method 2: Remove write protection of memory cards, usb with the command
In the case of memory cards, your usb does not have a Lock/Unlock button but is still locked against writing. You cannot write data to a memory card, USB can be used in the following way:
1. Press the key combination Win + CHEAP Open the RUN command box. Type command cmd and press Enter to open Command Prompt.
2. Type the command: diskpart Press Enter to execute the diskpart command.
3. Continue typing the command: list disk and press Enter.
Here will list the serial number of the drives in your computer. Remember the location of a USB drive or memory card that is locked to write protection.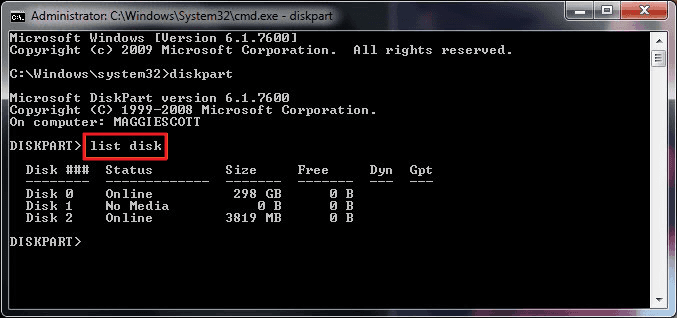 4. Type command select disk 0 (0 is the serial number of the write-protected drive and press Enter.
5. Continue typing the command: attributes disk clear readonly and press Enter to disable write protection on your device.
6. Close the diskpart window after the write-protected erase is complete.
Method 3: Remove write protection of memory cards, usb on Windows 7/8/10 with Registry
Using the Registry to fix write protection errors on USB and memory cards is completely possible. Mishandling with the Registry can erase data on your PC, hard drive, USB, or SD card. Therefore, we recommend that you follow the instructions below very carefully.
1. Connect the recorded mobile device to the computer.
2. Press Start to open the Run > Type dialog box: regedit and press Enter to open Registry .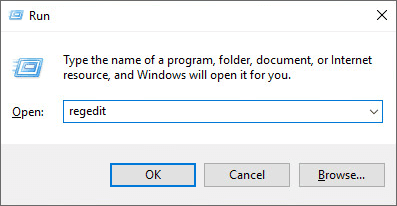 3. Click HKEY_LOCAL_MACHINE > System > Current Control Set > Control.
4. Check Storage Device Policies > Change the DWORD value to "0"> Click OK to save changes;
5. Quit Regedit and restart your PC to finish.
Method 4: Remove write protection from BitLocker partition in Windows
When you enable BitLocker on a hard drive partition, BitLocker will protect your data with encryption. And you won't be able to make any changes to the BitLocker partition unless you remove or unlock the protection.
Here are the instructions to unlock and remove encryption (write protection) from BitLocker folders or partitions on your PC:
1. Open This PC and right click on your BitLocker partition or storage device, select Manage BitLocker.
2. Select the correct BitLocker write-protected partition and press Turn off BitLocker.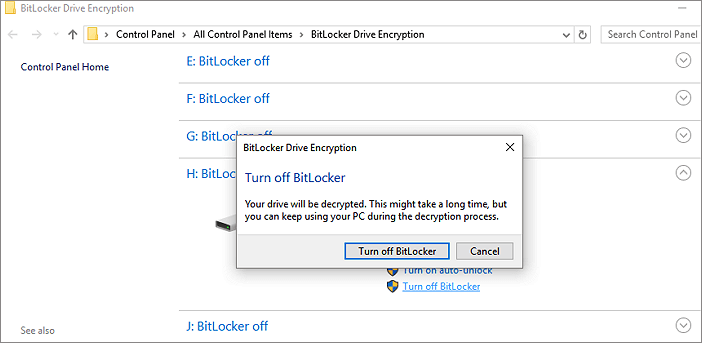 3. Wait and BitLocker will decrypt itself.
You should then be able to see your partition or hard drive showing BitLocker. You can manage the data on your partition without BitLocker write protection.