Microsoft has just announced a new version of the Bing search engine integrated on the Edge browser. The new Bing is integrated with an upgraded version of the AI ​​technology that underpins the ChatGPT chatbot. Microsoft is rolling out the product alongside new AI-enhanced features for its Edge browser, promising that both will bring new experiences for faster, more accurate browsing and information search thanks to huge data warehouse.
What is the new Bing?
The "new Bing" works in a variety of configurations. One of these displays search results side-by-side with AI annotations, and the other allows users to talk to the Bing chatbot, using the same way as with the bot. ChatGPT.
In the feature rollout, Microosft tried: querying Bing for recipes, travel tips, and buying furniture. In one demo, Bing was asked to "create a schedule for each day of a five-day trip to Mexico City." The question has been answered completely by the chatbot, describing a journey along with links to Website resources for your reference for more information.
ChatGPT only has data from 2021 and earlier, only Bing can retrieve news about recent events. The tool can also answer questions about its own launch, citing breaking news from the past day.
Microsoft says Bing's Chatbot AI uses an upgraded version of GPT 3.5, an OpenAI AI language model that supports ChatGPT. Microsoft calls this the "Prometheus Model" and says it's more powerful than GPT 3.5 and better able to answer search queries with up-to-date information and annotated answers.
How to sign up for Microsoft's Bing AIChatbot
Microsoft has just launched a version of Chat AI on Bing to compete with ChatGPT. Currently this version is only in beta, if you want to try Bing's AI you can follow these steps:
Step 1: Install the WebBrowsingOptimizer update for Microsoft's Edge browser. [Download WebBrowsingOptimizer]
Step 2: After the installation is complete, you will see a new Bing icon appear on the Taskbar, the icon is as shown below.
Step 2: You open up a new Bing, and Create Account Microsoft is free. The way to create an account is quite simple, so I will skip this step.
Step 3: In the address bar, visit bing.com. Click on the word "Chat" or "Chat"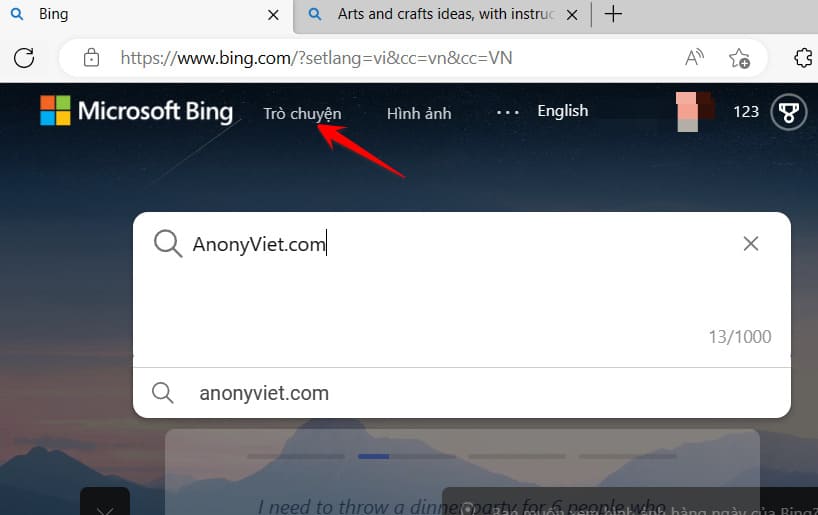 Step 4: You wait for about 3 seconds and you will see a window appear in Bing search results. This is your window to join the new Bing program with Bing AI Chatbot integration. Please press the button Join the waiting list
Step 5: So you are on Microsoft's waiting list to experience Microsoft's Bing AI chatbot. The advantage of Bing AI Chatbot is that it is free and easier to use than ChatGPT. With a huge amount of pre-existing data and a strong team of artificial intelligence engineers, it is possible that Bing's Chatbot AI will be a potential competitor to ChatGPT.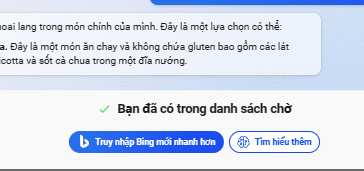 How to prioritize Bing waitlists to use chatbots sooner
Microsoft has two opportunities for you to move up the waitlist and gain access to the new AI-powered Bing faster. Once registered, the waitlist page will have a new button that says Faster access to new Bing. If you click on it, you will see the following two options:
1. Make Bing the primary search engine for your web browser on Mac or Windows.
2. Scan the QR code to install the Microsoft Bing App. Use your phone or tablet to scan the QR code and download the Microsoft Bing app for iOS or Android.
Currently, Microsoft has not said how long it will have to wait to get a limited preview of Bing, other than the announcement: "We will expand the preview to millions in the coming weeks."