Tracing other people's home addresses through the Internet is a pretty hot issue. Today, AnonyViet launches a tool that can find other people's IPs and home addresses. And I will explain how to use it in detail below.
Join the channel

Telegram

belong to

AnonyViet

? Link ?
The victim can change the IP address after the action is done. But if you give it to the police IP address + time + living area It is difficult for criminals to escape. However, the police unit only handles cases with a scale of 2 million or more!
What does this tool do for you?
Tet to spring is an occasion for family reunion and reunion. But it is also difficult to avoid theft or being scammed online. You want to report to the police, but don't know anything about that person?
This toolkit will help you track down the culprit. Or simply help you localize and find the living area of ​​someone you want.
You can also check yourself to see if too much information has been exposed. For example, here, there is a friend whose information is too detailed. That is very dangerous, need to improve security.
IP: 14.189.85.100, Date: 22-02-18, Time:13:09:24, Browser: Mozilla/5.0 (Windows NT 6.1) AppleWebKit/537.36 (KHTML, like Gecko) coc_coc_browser/64.4.130 Chrome/58.4.3029.130 Safari/537.36
Dia Chi:122 Nguyễn Đức Cảnh, Hưng Bình, Thành phố Vinh, Nghệ An, Vietnam
Details on finding the address of this tool
This is a tool that runs directly on the Website and you do not need to install anything. I have written a user-friendly and easy-to-see interface to deceive the victim.
The tool will get the IP address and track down the area where the object lives (as shown in the image above). However, it can't trace the place 100% exactly like the ISP. There will be errors and deviations of a few kilometers, but it is enough for you to zone and track that person.
It's much better than if you don't know anything about that person, isn't it? I am an admin living in Can Tho, the fact that it found the right area of ​​​​my living area made me quite surprised.
However, for those with experience in information technology, they will be hard pressed by this small tool. But believe me, you will want to try this tool once, right?
How to use the tool
Below is the access link of this tool.
Or go directly to the address http://bit.ly/tryingmake if you don't want ads. Copy the link to this address and send it to the victim so they can go directly to the tool.
After entering, it will automatically ask for permission to access locate like Google Map. This is the usual self-defense of every modern browser now.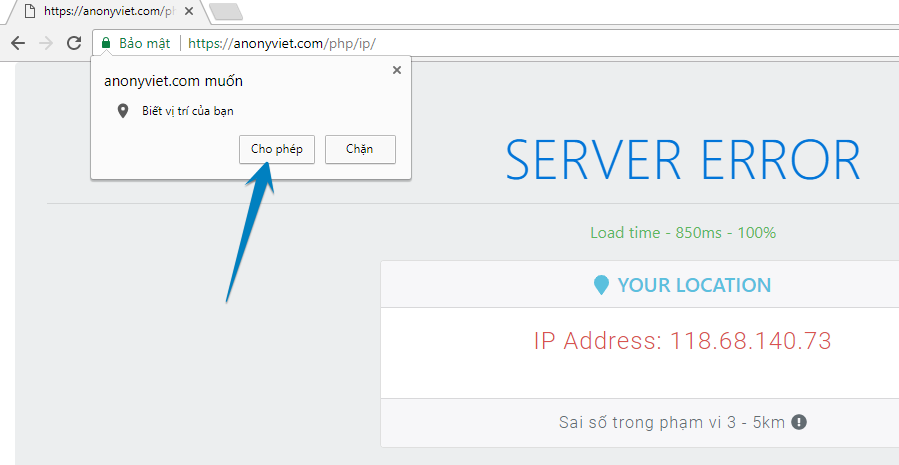 When the victim presses allow, it will automatically get the address and display the results.
To be able to see the results in detail, you need to access the AnonyViet results store to see.
Remember to skip the ads to support the website!
In this result store you will find the following information:
Access time.
Browser name.
IP address.
The most important thing is information about the victim's living area.
You can bring it to the police access time + IP address + living area let them investigate.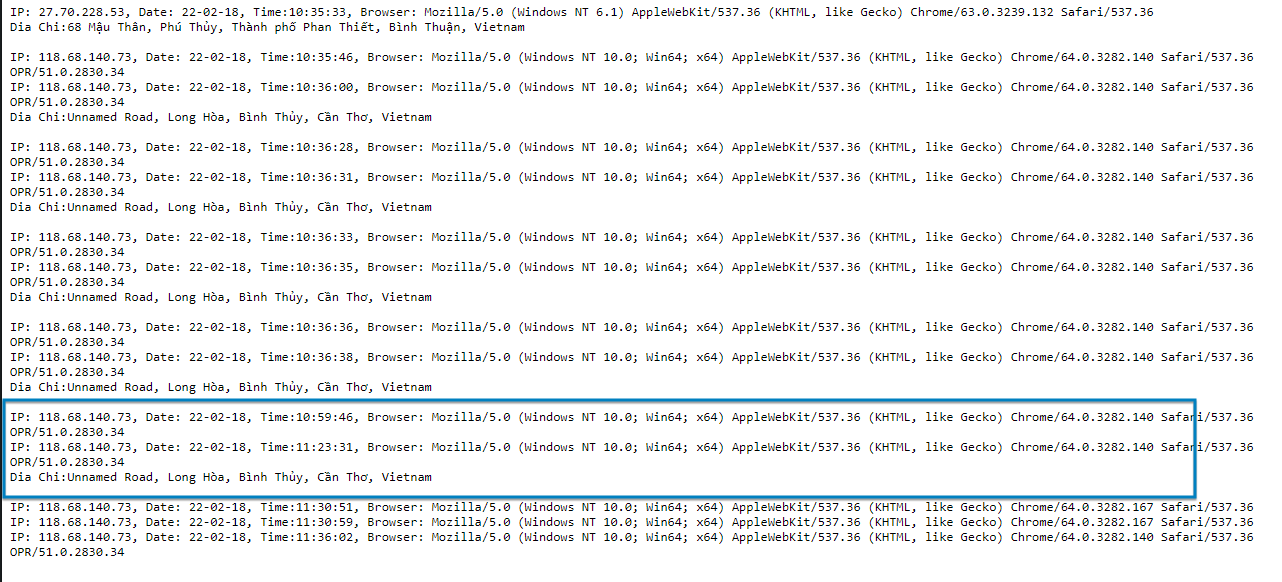 In short, what you need to do is…
Lure the victim to the website according to the Social Hacking method that hackers often use.
Then go to the results store and find information obtained from the victim including access time, IP address, Living area.
Go to the police and let them use ISP to find the exact object. Guaranteed subject will be caught within the day.
Social Hacking is simply a plan to use social networks or social relationships to trick them. Then steal information from them as hackers usually do. I have a special post about it.
You can read the article reference to know how to lure victims to the site and get information.
Note
The scammer can change the IP address after the scam is done. But if you give it to the police IP address + time + living area then the prison percentage of criminals is 98%!!
Like Fanpage or follow website for quick updates of good articles.
Thank you for supporting Anonyviet
Lmint