How to delete all friends on Facebook Bulk is one of the issues that many people are interested in and looking for. You may want to remove people you don't know, aren't in touch with, or don't share your interests with. However, deleting each person individually will be very time consuming and annoying. So is there any way to delete all of the above friends? Facebook quickly and easily? The answer is yes, and in this article, AnonyViet will show you how to do that.
Join the channel

Telegram

belong to

AnonyViet

👉 Link 👈
Benefits of deleting friends on Facebook
Facebook is the most popular social network today, allowing users to connect, share and interact with each other through posts, images, videos and messages. However, to get the best experience on Facebook, you need to manage your friend list properly. You may want to delete all your Facebook friends for many different reasons, such as:
You want to create a new account, with a new list of friends, suitable for your current purposes and interests.
You want to minimize the distraction, anxiety, and pressure of seeing other people's posts on Facebook, especially people you don't care about or aren't close to.
You want to protect your privacy and avoid letting unrelated people know too much about your personal life.
How to delete all friends on Facebook is extremely simple
Instructions for deleting all friends on Facebook using a computer
You can use the Mass Friend Deleter utility to unfriend many people on Facebook using your computer. This utility allows you to select multiple friends to delete or unfriend at once on Facebook.
However, you should note that this utility does not have the ability to filter friends by level of interaction, so you will have to choose the people you want to delete yourself.
Step 1: Open Chrome browser on your computer > Click This or go to the Chrome store and type the extension name 'Mass Friend Deleter' > Select 'Add to Chrome'.
Step 2: Log in to your Facebook account on the website > Activate the Mass Friends Deleter tool on Chrome.
Step 3: Select the friends you want to unfriend or tick select all to delete all friends on Facebook > Then click delete friends to unfriend.
Instructions for deleting all friends on Facebook using your phone
MonokaiToolkit is a phone application that helps you remove people you rarely or no longer contact on Facebook. But this also has a downside: you cannot choose who will be unfriended.
Steps to delete all friends on Facebook using the MonokaiToolkit application are as follows:
Step 1: You download the MonokaiToolkit application to your device here
Step 2: Open the application on your device > select language > At the main screen of the application select Login > Enter your Facebook account.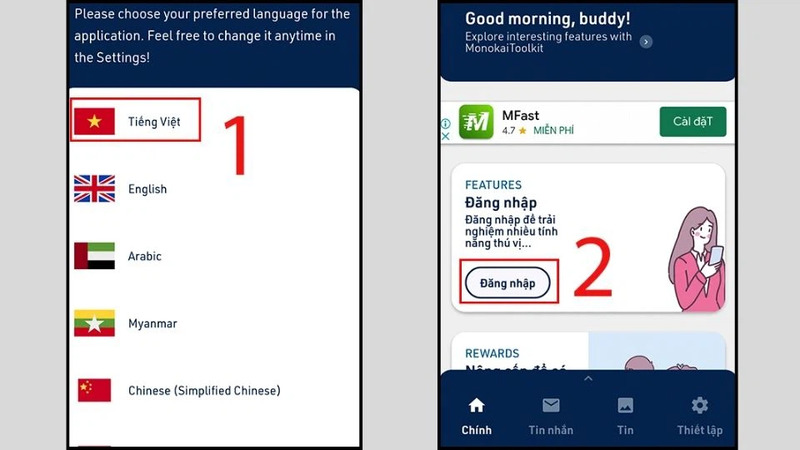 Step 3: Once logged in successfully, the application will return to the main screen > In the 'Explore all features' section > Select 'See all'.
Step 4: Select 'Filter inactive friends' or select 'Delete all friends' > Finally select 'Start deleting'.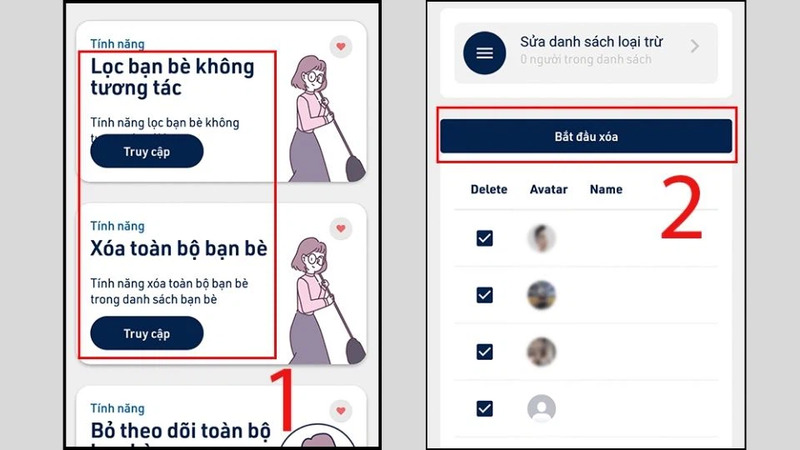 Things to keep in mind when deleting all friends on Facebook
After unfriending Facebook, restoring your friend list is not simple. Please consider carefully before deciding to unfriend the people you have chosen.
Other people won't know when you delete them as friends. However, they may discover that you are no longer on their friend list if they visit your profile.
After unfriending, the content you previously shared with that person will not be affected. Because it will still be saved in your history on Facebook.
Before deciding to filter friends, think carefully about your relationship and friendship with that person. It may be due to personal reasons, conflicts or changes in your life that you have to delete friends with them, but be careful before making a decision.
Epilogue
How to delete all friends on Facebook Bulk is a very useful tip for those who want to "purge" their friends list. You just need to apply the methods I shared above, and you will be able to delete all your Facebook friends in just a few minutes. Wishing you success in "filtering friends"!