I am sure that the brothers who are following Anonyviet 90% are using Windows, right? With such a large number, are you bored with your Welcome screen? If you are bored with it or you want to show it off to your friends then you have come to the right post. Today I will guide you to change the word Welcome on the login screen using Resource Hacker
Join the channel

Telegram

belong to

AnonyViet

???? Link ????
What is Resource Hacker?
Resource Hacker not only helps you to view, but also add and remove existing components of files, have the ability to view and change advanced information in Windows such as adding new resources such as new Bitmaps, icons, Cursor, AVI; add new menus, insert new resources in dialog. This application helps users to automate many tasks in running the program to save time.
Resource Hacker can make copies of the original files for editing to make restoring them easier. Not only that, this tool integrates many commands to replace elements of structure files such as Bitmap, Icon, Menu, String Table, Cursor, AVI, Version Info. This is an interesting utility for those of you who like custom Windows.
Resource hacker features
Change the components of the System Structure File
View file elements
Decrypt and add or remove the contents of the File structure in the system
Make a copy of Windows System Files
Create a new look and style for Windows
Instructions for creating the word Welcome on Windows using Resource hacker
This application is not for those who are new to or do not know too much about computers and the Windows operating system. I encourage you to use it on virtual machines like VMware before proceeding on your computer.
Resource Hacker installation guide
Step 1: You proceed to access Resource Hacker's website and select "Download". I encourage you to download the installation file (Exe) instead of the compressed file (Zip)
Step 2: You proceed to install as normal software
Change the word Welcome on Windows
Step 1: You open the Resource Hacker application on your device. You can open the Menu and select in the recent added section.
Note: please run it with admin rights!
Step 2: Proceed to file -> C drive -> Windows -> System32 -> En-Us and proceed to find the file winlogon.exe.mui
Step 3: Copy that file to the main screen
Step 4: Back to Resource Hacker software, you proceed to open the file winlogon.exe.mui just copied out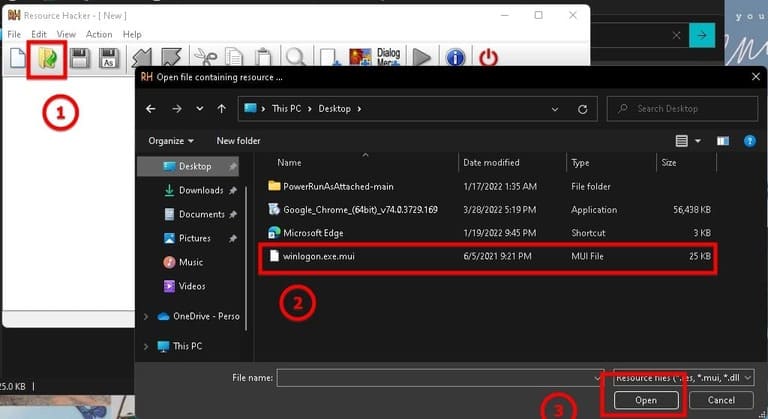 Step 5: You open String Table -> open the file named: 63:1033
Step 6: You change the word Welcome in quotes at line 1002 "Welcome" into the word you want
Step 7: You choose compile script (blue play button) in the top taskbar. You can also press F5. Then press Save (Ctrl + S)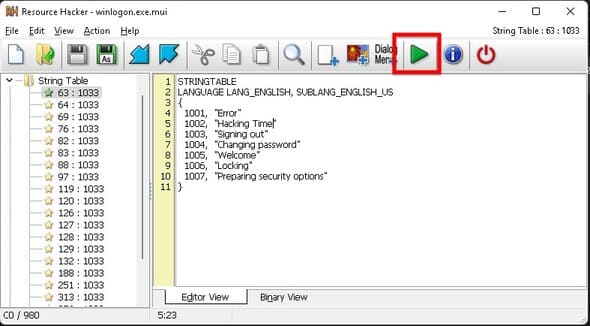 Step 8: You change the file you just edited to winlogon1.exe.mui and copy it to the location of the old file
Step 9: You enter the recovery mode of Windows by hold shift key and press Restart
Step 10: You choose Troubleshoot -> Advanced Options -> Command Prompt
Step 11: You write the following command in the command prompt
notepad
Step 12: Using the Open function of notepad, you proceed to enter and delete the file winlogon.exe.mui original and edit file name winlogon1.exe.mui wall winlogon.exe.mui
So I just finished showing you how to change the word Welcome on the Windows Logon screen. If you have any trouble, don't hesitate to leave a comment below to let me know!