iToolab AnyGo is a software that allows users to change GPS location on iPhone. This tool is very useful when you want to spoof your location on apps like Pokémon GoGoogle Maps, Zalo… or when you want to simulate a trip in the Maps app.
Join the channel

Telegram

belong to

AnonyViet

???? Link ????
This software has a simple user interface. You just need to connect your iOS device to your computer, then select the location you want to change on the map. The software also allows you to create a simulated path to pretend you are moving from one place to another.
iToolab AnyGo formerly an iPhone application because it was used by many people, so it was further developed for the Android array. Its main use is to help change the GPS location on your phone. This way we can pretend to be at a location in a game or dating app without having to leave the house. In this way, we can disguise our actual location information and stay in a place we like.
With a fairly simple interface, the application allows us to do this work without having to perform complicated operations on mobile. Therefore, we can enjoy Pokémon Go with iToolab AnyGo to discover rare objects and Pokémon, just knowing their location in GPS.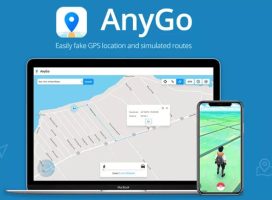 iToolab AnyGo is more than simply changing GPS location. It has many other features such as:
Path simulation: Creates a fake route, which allows the simulator to move between two or more different points.
Adjust movement speed: User can customize the virtual movement speed, from walking to running or flying.
Back to original location: With one click you can easily return to your real GPS location.
Compatible with many applications: AnyGo works well with many GPS-based apps and games
Hide real location – When we connect to the VPN, it redirects traffic through one of its servers in the location we choose. This way, anyone trying to monitor your Internet activity will only see the server's IP address instead of the actual IP address.
Enhance privacy – One of the best ways to protect your privacy online is to use a VPN. When we connect to the VPN, it encrypts all traffic going through its servers. In this way, even if someone tries to intercept our traffic, they will not be able to read or understand it.
Fool your friends and followers – We can use iToolab AnyGo to fool our friends and followers into thinking we are somewhere else. For example, we can make them believe that we are at the Eiffel Tower in Paris when in fact we are sitting at home.
Play a Location-Based Service (LBS) game – Many popular games like Pokemon GO, Ingress and Wizards Unite use GPS location to determine your position in the game. However, some of these games come with restrictions that only limit the game to certain regions. We can use a location tracker to bypass these restrictions and play from anywhere in the world.
Get device software updates – For example, Apple rolls out new iOS updates to iPhone and iPad users in phases. This means that the update is first made available to users in certain countries before it is rolled out to the rest of the world. However, if we use a location tracker to connect to a VPN server in one of these countries, we will be able to receive the update as soon as it is released.
First and foremost, AnyGo allows us to change the location of the GPS to the location we have chosen. On the phone, it will be understood that you are at the specified location on the world map. This is done quite simply and we only have to connect the mobile to the PC with a USB cable. Performing the operations is extremely simple and will not take more than a few seconds.
But this is not the only ability that iToolab AnyGo has as it has more options. In addition to simulating location, it can also simulate movement, allowing us to create routes from point A to point B without leaving the house. If this is not enough, it also allows you to take more complex routes with several points and even use predefined GPS routes , which we could find using Google (using file in GPX format).
These movements allow us to have a variety of options, from simulating walking at a comfortable pace, running, cycling, car… it all depends on the speed and options we choose when make routes.
You can see Full guide how to use iToolab AnyGo at home page.
Conclude
In short, iToolab AnyGo is a powerful tool that allows you to change the GPS location of iOS and Android devices. Despite some security and regulatory compliance downsides, it's still an option worth considering if you want control over your location information. However, before using it, carefully weigh the risks and ensure that you comply with the location usage regulations of the apps and services you use.
You only need to pay 10$ monthly, you can choose lifetime fee up to 60$. With a relatively cheap price you can protect your privacy based on Fake GPS, for what it offers, this price is not very expensive.