Currently on the market there are many tools available to help you optimize the performance of Windows, but first of all you have to be careful about which tools you choose to use. These tools can do more harm than good by deleting important files or making changes to your system and causing unnecessary problems. But in this article, I will introduce you to a tool called HoneCtrl, which helps optimize Windows which I find extremely effective.

Note: Before using any Windows optimization tool, you should also research and read other users' reviews to make sure it's safe and effective. You should also create a system backup before making any important changes to your system, in case something goes wrong.
Other Windows optimization tools
In addition to HoneCtrl, you can also refer to other Windows optimization tools below:
first. Advanced SystemCare – Advanced SystemCare is a comprehensive system optimization tool that can clean your system, fix registry errors, optimize startup programs, etc. It also includes features like system monitoring real-time and privacy protection.
2. AVG TuneUp – AVG TuneUp is a Windows optimization tool that can clean up your system, optimize startup programs and fix registry errors. It also includes features like disk defragmentation and system maintenance tasks.
3. Glary Utilities – Glary Utilities is a popular system optimization tool that offers many features to help improve the performance of your Windows computer. It includes many useful features such as one-click maintenance, Registry cleaning, disk cleaning, and more.
How to use HoneCtrl
Step 1: First, you need to go to HoneCtrl's github page and download the latest .bat file here.
Step 2: Next, right-click on the HoneCtrl.bat file and select "Run as administrator".
Step 3: Agree to the terms of HoneCtrl by typing I agree.
Step 4: Here you have 7 options including system optimization, game optimization, software optimization, privacy, decoration, enhancement and many more options. But within the limits of this article, I will only guide you to the first option, which is to optimize the system. You enter 1 and press Enter.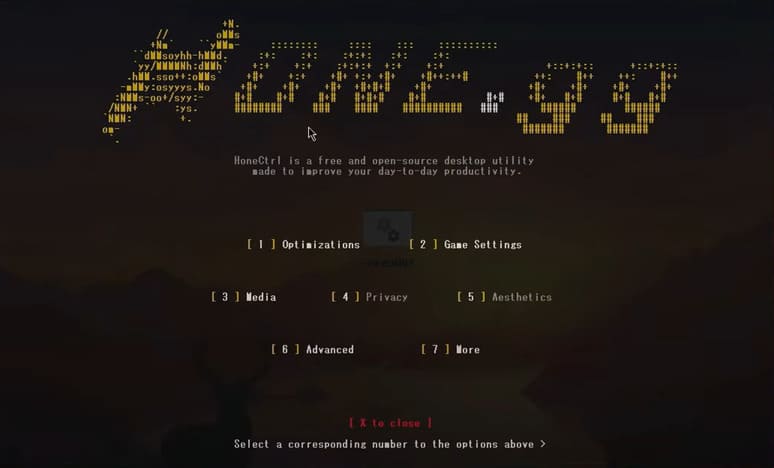 Step 5: Here you will have a lot of different Windows optimization options. But I would encourage you to choose the following options:
2. SvcHostSplitThreshold: This Tweek will separate the process of Windows services into small parts such as network, search, etc. The purpose of this is to help your computer run more stable because if one of the services in the system crashes, the computer will crash. You can still function normally.
3. CSRSS High Priority: This Tweek will help improve the signal from your mouse to your computer. You can try turning it on and see if it improves anything.
4. Timer Resolution: It will boost CPU scan frequency and clear CPU queue. From there push your game to the top to increase the fps in the game.
5. MSI Mode: Prioritize your GPU and network card to the highest level. But it can also cause your device to have a blue screen, so consider carefully.
6. Affinity: Divide the process evenly onto the CPU. If you are lazy to have it auto, use this. If you want to customize more deeply, you can use Process Lasso.
7. Win32 Priority Separation: I recommend using 28 because it will be more stable, faster, and will be cooler in the long run. The remaining 26 will help your FPS to the highest.
8. Memory Optimization: Optimize things related to hard drive formatting, booting, so it will help your computer a little faster. If you use ssd, ignore it.
9. Mouse Fix: Acceleration for your mouse.
Next, press N to switch to page 2.

If you are using a wired network, turn on the option 4, 5, 6 in the Network section. All 3 options will help you turn off things that do not support you too much while you use the network such as offload, flow control, etc.
And if you use Wifi, just choose the number 6 okay because it won't affect what wifi needs.
Next is the GPU & CPU section. In this part, you just need to turn on the number 7 stop it. If you use Intel's onboard card, turn on the number 8 and Onboard Card or AMD's GPU, turn on the number 8.
So it's done. You can try playing around with other options or go to honeCtrl's discord server to discuss more.