Most manga artists always want their work to be as refined as possible before it is released to readers. To do that requires you to invest in one of the best drawing software. Today, Anonyviet will recommend to you top 5 anime manga drawing software best on computer.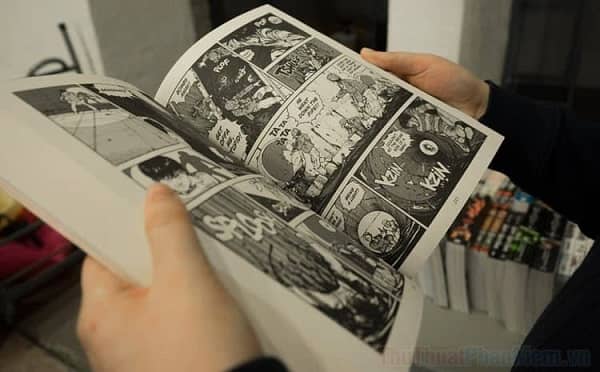 1. Clip Studio Paint Pro – specialized anime manga drawing software
Clip Studio Paint Pro is rated as anime manga drawing software Best because it is integrated with drawing tools that come with outstanding features. This software is very popular with anime and manga artists because of the traditional and natural feel it brings.
Clip Studio Paint Pro has excellent drawing features. For example, it can measure the pressure of the pen, thereby creating the intensity of the bold or light strokes as realistic. Besides, the application can also work on high-resolution files, up to 10,000 layers.
Advantage:
A variety of brushes for you to choose from, including: pencils, watercolors, oil paints, pastels, etc.
Works on high resolution files, up to 10,000 layers.
Draw or enhance your work with many editing features
Scan and print directly from the app.
Good price.
Gives a natural feeling like drawing on paper
Weakness:
The interface is difficult to get used to for beginners
2. Adobe Photoshop CC – professional anime manga drawing software
Adobe Photoshop CC As a well-known name in the graphic design industry, this software also has the features to create beautiful anime and manga works.
Many favorite artists Adobe Photoshop CC because it possesses many features, user-friendly interface that is easy to use.
's brush set Adobe Photoshop CC Also very rich with brush, mixer brush, pencil, as well as eraser tools. Besides, you can set the stroke smoothing mode and many other cool image options.
Advantage:
Features symmetrical coloring.
Smart stroke softener.
There are image adjustment options such as shadow, color, temperature, exposure, contrast, and more.
Various brush heads.
Filters, overlays and plug-ins are easy to install
You can combine many different images to create unique new images.
Weakness:
Registration costs are quite expensive.
In the world of Manga and Anime lovers, surely no one does not know PaintTool WRONG. It is one of the anime manga drawing software most popular today. The software possesses many user-friendly creative tools. So if you want to draw Anime, Manga, or even Photoshop then PaintTool WRONG would also be a very good support tool.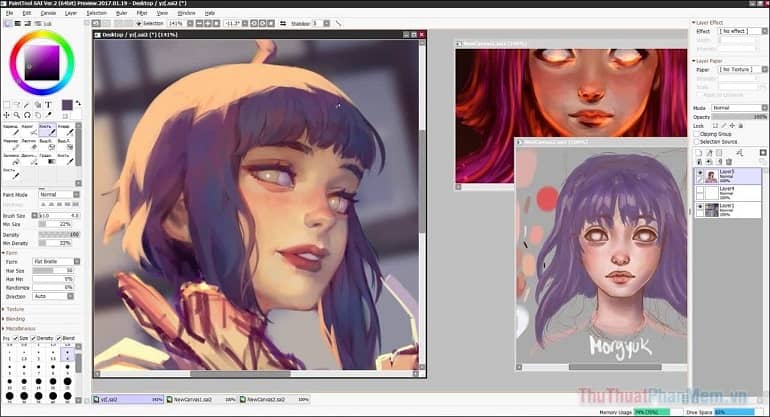 This software has a wide color spectrum, many different colors, you can also adjust color saturation as well as luminance.
PaintTool WRONG comes with customizable brushes so you can create your own brushstrokes.
Advantage:
Fast and stable operation
Easy-to-use layer customizations.
Wide color spectrum, many colors
Full digitization support
Easy-to-use paintbrush
4. Corel Painter – the most beautiful anime manga drawing software
Corel Painter one of anime manga drawing software the most beautiful today. This software is available on both Windows and Mac. You can take advantage of many of Corel Painter's advanced features to create an impressive work.
Corel Painter There are a variety of brush types, including digital brushes and brushes that simulate traditional brushstrokes. Such as crayons, pastels, watercolors, etc.
Besides, the software also provides you with different "paper" materials to create works with the desired texture.
5. Krita – easy-to-use drawing software
Krita It is also a software that people draw manga and anime often come to. Most of Krita's tools are customizable, so your work is sure to have a lot of personal touch. In addition, the easy-to-use interface is also a plus point that makes this software suitable for both beginners and professionals.
Epilogue
So Anonyviet introduced to you top 5 anime manga drawing software most effective today. I believe you will find yourself a satisfactory software. Wish you success and many impressive works!