A new trick, you can create a chess game in the chat window of Facebook Messenger by typing @fbchess play. A chessboard will appear for two people to chat with each other, but you can't interact directly on this board, but you have to type commands to move each piece.
Join the channel

Telegram

belong to

AnonyViet

? Link ?
For example: "@fbchess e3" to move the pawn to the position of E3 on the board. To learn all the commands of this chess game, use the command @fbchess help.
This game can be used in both private and group chat, you can choose the name of the person you want to play with, while two people play chess, other people in the group can still chat and talk normally. There is also the command @dailycute Also, please slowly discover more, there are many very interesting things.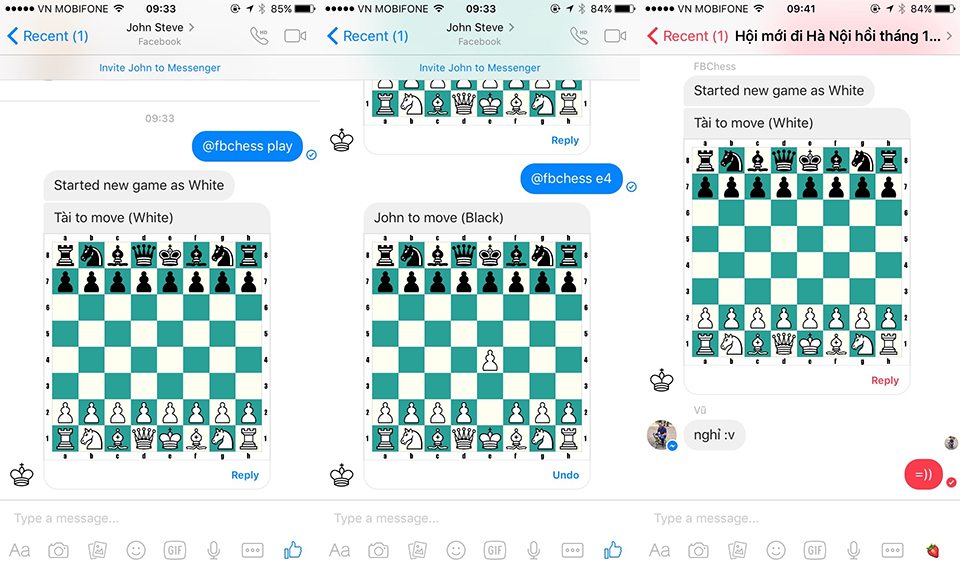 Instructions to play chess on Facebook Messenger
Symbols represent chess pieces (always capitalized)
K (King): King's army
Q (Queen): Queen
B (Bishop): Military Statue
N (Knight): Knight
R (Rook): Rook
P (Pawn): Pawn
Some Essential Syntax
@fbchess play: Invite to play chess
@fbchess play white/black: Invite to play chess and actively choose to hold white/black pieces
@fbchess Pe4: Move a pawn to column e, row 4
@fbchess Nbd2: Move the standing knight in column b to column d, row 2
@fbchess R2xc2: Use the rook in row 2 to capture the enemy piece in column c, row 2
@fbchess 0-0-0: Set up the queen's defense
@fbchess OO: Set up the king's defense
@fbchess show: Bring the chessboard back to play after a while if it's not finished
@fbchess undo: Offer to withdraw the move – Accept the request to withdraw
@fbchess draw claim: Recommend a draw
@fbchess draw offer: Get a draw offer
@fbchess resign: Sorry
@fbchess stats: View stats between 2 players.