Sometimes you are having fun surfing Facebook and have an idea to post a link from your website, it's a pity if your website is marked as Spam by Facebook. Anyone who clicks on the website link you post will receive a spam link warning. Today I will guide you to remove the blocked domain link on facebook 2016help you solve the problem that a lot of people are facing.
Join the channel

Telegram

belong to

AnonyViet

👉 Link 👈
If you try to search on google with the keyword "website blocked by facebook"You will see a lot of websites that have the same problem, but there is no definitive solution.
There are also a few ways to solve this problem, but it is expensive or does not carry the right brand, domain name of your website such as buying a new domain name, using shortlinks, etc. So why "unlock" your website?
With this approach, sometimes it works, sometimes it doesn't, depending on how spammy your website is marked. But try doing it is better than doing nothing and your website will be blocked forever, it will only take you a few minutes.
Step 1: Post the link of the Website as usual status.
It is best to only post the link of the website in your wall, otherwise you can post the link on the pages and groups that you will not be reported by the admin or the members of that page as posting irrelevant or spam things. If you are reported again, you will determine to delete that link.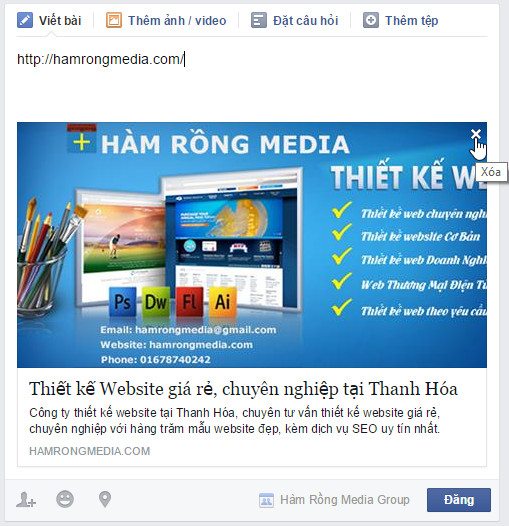 Paste the link of the website in the article writing section. Next, you should Click the X button on the preview as shown above to remove the thumbnail image and description.
Step 2: Let Facebook know your page is not spam
As soon as you click the "Post" button a pop-up appears asking for a security check. Please click on "let us know" below the capcha box.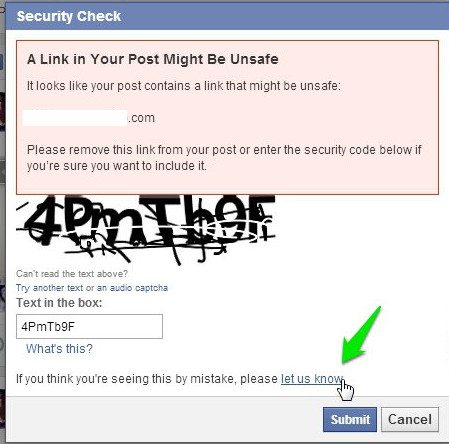 In the "Facebook Blocks" section, write a description to explain to Facebook support why your link is not spam, it is wrong to block it. You just need to write "The website is safe" Click the Submit button when you are done writing.

Step 3: Enter capcha and send confirmation
Go back to the "security check" section, enter the capcha code in the text box then click submit.
Step 4: Like the post and click on the link and mark it as "Not spam"
After liking the post, click on that link, a redirect page will appear with the message that your page may be spam.

Please click on "Not spam"
If doing the above still does not work, you should repeat step 4 many times until your website is unblocked from Facebook. You can also ask other people or groups you are admin to get help with clicking "Not spam".
In addition, you should also note the following:
Do not post website links continuously in many pages or groups continuously (Both quantity and time)
Do not post website links with the same domain > 5 times / 1 day.
Sometimes you can post more than the above notes, but the possibility of your website being blocked again is very high. And the following blocks seem a bit more tiring to unlock spam.
Hope this article helps you Find out the problem of the website being blocked from linking on Facebook and how to solve it.