If you are worried about your computer getting a virus and do not want to spend money to buy software, here AnonyViet will introduce to you. 6 ways to protect your computer from viruses for free. For more details, stay tuned!
Join the channel

Telegram

belong to

AnonyViet

???? Link ????
Why do you need to protect your computer from viruses?
Virus is one of the biggest threats to the safety and security of computers. If your computer is infected with a virus, it can make your system inefficient, cause loss of important data and documents, or even gain unauthorized access to your personal information.
Should you choose free or paid antivirus software?
Paid antivirus software can provide the most comprehensive protection, but sometimes they are very expensive and not everyone can afford.
Some free antivirus software may not offer comprehensive protection, but they also give you a sufficient level of protection to keep your computer safe from malicious threats.
6 ways to protect your computer from viruses for free
Method 1: Turn on Windows Defender
Turning on Windows Defender is one of 6 ways to protect your computer from viruses for free. This is a built-in anti-virus program in the Windows operating system. When activated, this program can help protect your computer from viruses and malware from unknown sources.
To enable Windows Defender, follow these steps:
Step 1: Click the Start button and type "Windows Security" into the search box. Then click on the application that appears.
Step 2: In the Windows Security window, click "Virus & threat protection"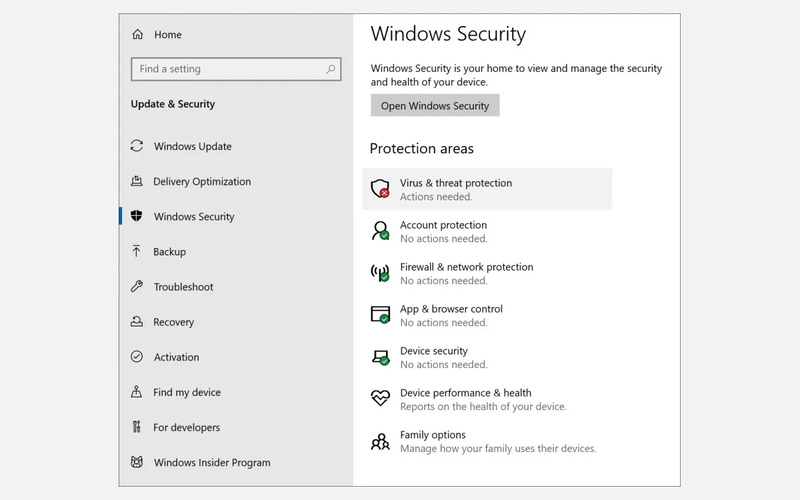 Step 3: Click on "Manage Settings"
Step 4: Enable "Real-time protection".
That's it, Windows Defender has been activated and will scan your computer regularly to detect potential dangers.
Method 2: End virus-related tasks
Viruses often operate in the background as processes, using system resources and causing threats. These sophisticated applications are like blood-sucking "leeches" that weaken your computer, peek into your personal information, or even corrupt your data.
Fortunately, there is a simple way to end these unwanted background programs and make your computer virus-free, by doing the following:
Step 1: Type "Task Manager" into the search bar and click on it.
Step 2: Search for suspicious processes, click on it and select "End Task"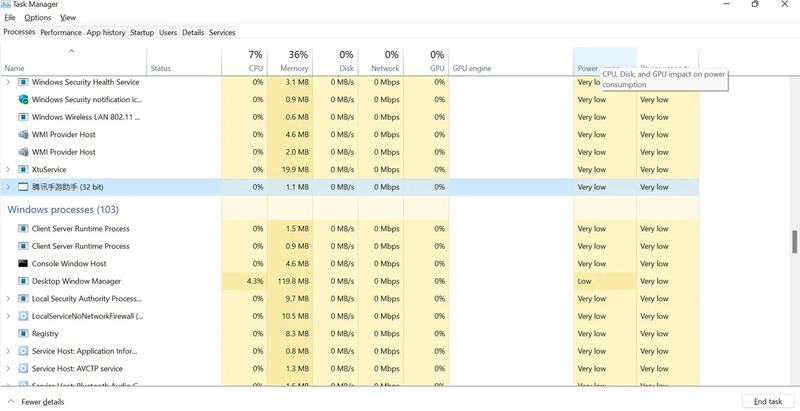 Method 3: Turn off strange startup programs
Strange or unknown startup programs can be a worrying threat to your computer. They can make your device boot slowly, stealthily steal data, monitor browsing history, and more.
Here's how to disable these startup programs:
Step 1: Press Ctrl + Alt + Delete on your keyboard and select Task Manager from the menu that appears.
Step 2: Find the "Startup" tab at the top and click on it. You'll see a list of the names and icons of the programs that start up automatically when you turn on your computer.
Step 3: If you see something suspicious, right-click it and select "Disable". That will make that program go away and not bother you anymore.
Repeat this process for any other suspicious or unnecessary programs on the list. You can also sort the list by "Startup impact" to see which programs affect your computer's performance the most.
Step 4: Close the Task Manager window and restart the device. You'll see faster and smoother booting, and a lower risk of virus infection.
Method 4: Delete temporary files
Temporary files created by various programs and applications when running on the computer often store some information that is no longer needed. Sometimes, they can be a hiding place for malware. To delete them, follow these steps:
Step 1: Click the Start button and look for "Disk Cleanup".
Step 2: Select the drive to clean up and click OK.
The application will check the drive and show you how much space you can save by removing some files from your computer.
Step 3: Check the places you want to clean, such as Recycle Bin, Downloads or Thumbnails.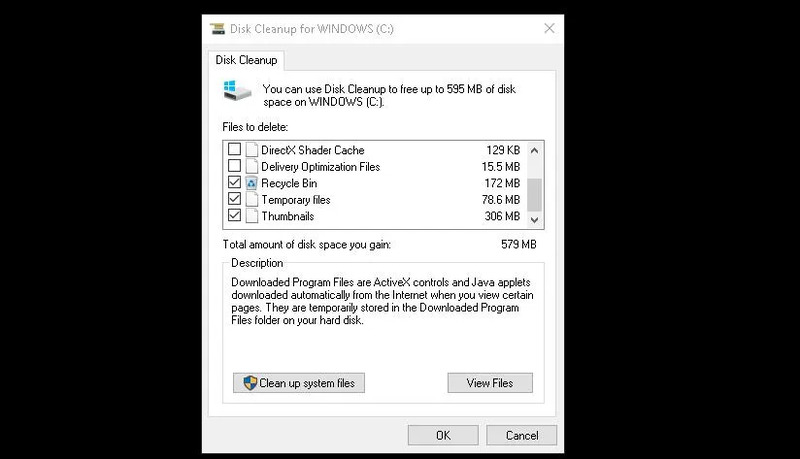 Alternatively, you can also click "Clean up system files" to remove more files, such as old Windows updates or previously installed versions.
Step 4: Press OK
Step 5: Restart your computer to make sure all temporary files are gone, and your system will be virus free
Method 5: Restore the system before being infected with a virus
Imagine being able to go back in time before your computer was infected with a malicious virus. It's great, isn't it? To do that, perform the following steps:
Step 1: Type "recovery" into the search box on the Start menu and click the Recovery option (control panel).
Step 2: In the Control Panel window, click "Open System Restore".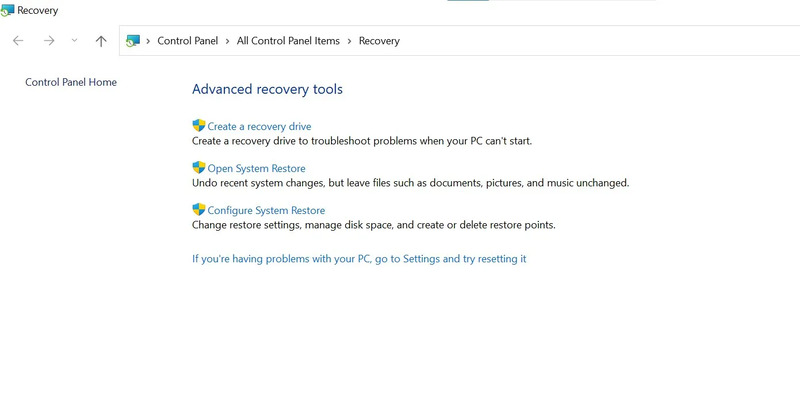 Step 3: Click Next.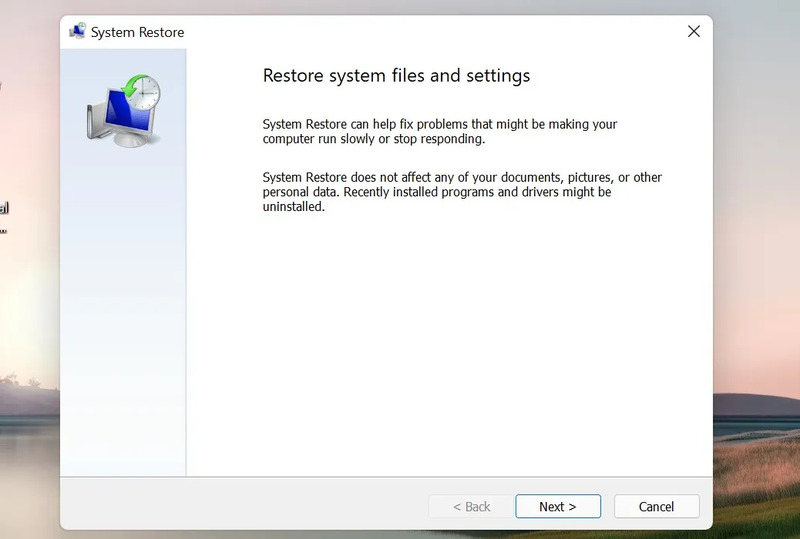 Step 4: You will see a list of available restore points to choose from. You can select "show more restore points" and click on the restore point you like. Then click Next.
Step 5: Review the changes that will be made by System Restore and click Finish. Confirm the selection by clicking Yes when prompted.
Step 6: Wait a few minutes for the restore process to complete. The computer will then restart and you will see a message stating that the system has recovered successfully.
Method 6: Format the hard drive
This step is considered the last hope for virus removal if you are not using anti-virus software. But be aware that this will erase everything on your hard drive and there is no way to recover them,
However, you can back up your important files on an external hard drive, or Google Drive to store them. It's the safest way to preserve files that you don't want to delete. But there is also a risk if you accidentally back up files and folders that contain viruses.
To format the hard drive, do the following:
Step 1: Insert bootable USB device or installation disc
Step 2: Restart the computer and boot from the installation disc or USB.
Step 3: Follow the onscreen instructions, and you'll have a fresh and "clean" operating system to use.
You can try many different ways to remove computer viruses without software, but the truth is: nothing beats anti-virus software to remove malicious viruses that you don't need to worry about. file loss.
In addition, regular software updates can also help reduce the risk of virus attack. In addition, you should also practice safe browsing habits such as using trusted browsers and downloading content from reputable websites to ensure your computer is free from viruses.
Epilogue
With 6 ways to protect your computer from viruses for free above, you can safely use your computer without worrying about viruses anymore. Apply these protections to avoid unnecessary risks. Wishing you success!