Welcome to the new service portal, TotHost offers you a 50% discount code, applicable to all orders made at the new portal from February 18 to March 18, 2023. Quickly enter the code OPENBETA to buy half price VPS.
What's new in TOT CloudGate?
Still log in with the account and use the service available at the CloudApp portal as usual. In TOT CloudGateyou will enjoy additional new features:
5 new VPS packages for you to choose from: TOT MTiny (0.5core 512MB RAM 8GB Storage), TOT M12 (1core 2G RAM 20GB Storage), TOT M24 (2core 4G RAM 40GB Storage), TOT M33 (3core 3G RAM 40GB Storage), TOT M36 (3core 6G RAM 60GB). Storage)
Send a ticket with a picture attached
Feature "Enter promo code": Say goodbye to the chain of days of sending codes via tickets, now you can "smash" the code right at the payment step. Check the code now"OPENBETA" and enjoy 50% off all VPS orders!
Note: New registered account will receive a voucher worth 300,000 won: 100,000 won when buying a new VPS and 200,000 yen for the next 2 renewals.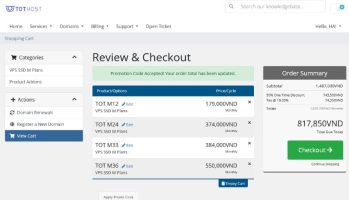 How to get 50% OFF?
Step 1. Choose VPS package at https://billing.tothost.vn/store/vps-m.
Step 2. At checkout, enter the code OPENBETA in the Promo Code box and press the Apply button.
Step 3. Click the Proceed to Payment button and select the appropriate payment gateway.
Note
Time: from 02 to 18.03.2023
Subjects of application: All users with accounts at TotHost
Applies to all VPS orders with unlimited value
Not valid in conjunction with other promotions
The program is not exchangeable for cash
Any questions about program details, do not hesitate to contact TotHost: