Today I would like to publicize Tool Troll Facebook that was introduced not long ago. Tool troll with extremely poor content and headaches for victims. It even brings a feeling of inhibition, anger, but it's very funny, I tested it with my friend and I will leave a picture of the consequences of the tool below!
Join the channel

Telegram

belong to

AnonyViet

👉 Link 👈
Introduce
This Tool Troll is made based on your idea [email protected].
Uses of Tool Troll Hack Follow
This is a tool with a follow hacking interface (Follow) for the victim's Facebook account, but when running, it posts on the victim's wall. a state (status,stt,…) like the photo below.
Note: Let the victim load all 1200 tokens
Tool interface
Please promise 100% no guys.
1st: Tools does not store login information your Facebook account.
Monday: The entire interface and code of the tool are designed and planned by the admins. The .bat file converted to .exe is thought and written by myself, so it does not interfere with the system at all
Guaranteed by reputation
Tool's code is just posting status and 100% does not infringe on personal accounts.
The specific image of the .bat file's code for you to detect.
Code Tool no coding, so you can decompile to see how the code works
You just need to check MD5, SHA1, SHA-256 of the .exe file, you know it right away.
If it is different from MD5, SHA1, SHA-256, it means that the file has been edited and added and may be infected with a virus. So before you use it and want to know if it's the original file of AnonyViet, take a few minutes to check the MD5 code.
How to Check MD5
You go to the website check MD5 code Online under
The working mechanism of the web will work according to the photo below. You just need Upload files exe and paste the software's MD5 code Enter to compare. (I put the code at the end of the post)
If similar:

Original unmodified software.

If other:

The software structure has been edited, added and removed files.
I'll check out Tool Troll's MD5 for you guys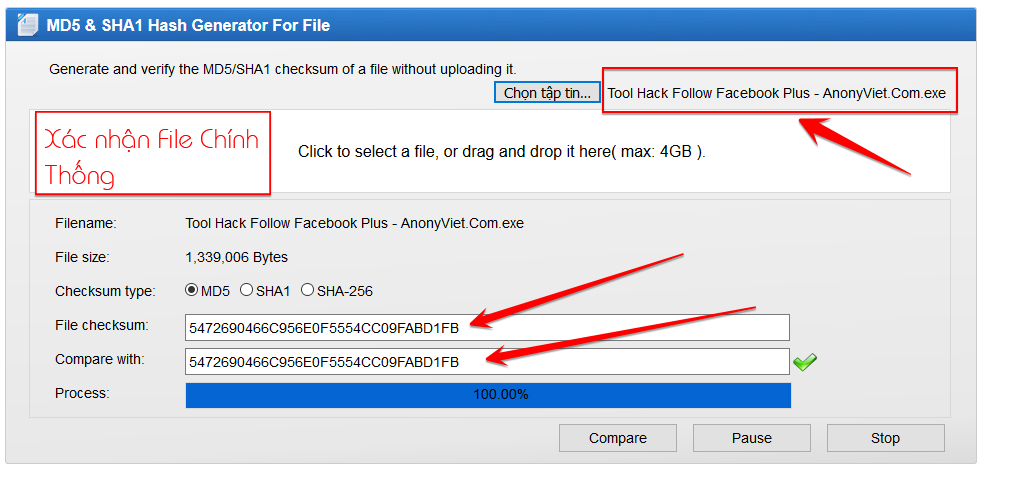 Remaining SHA1 and SHA-256 Please check it yourself.
Why You Must Check Hask Code
Because in the past, there were some components that used the tool I brought go for sale and with virus, RAT, Keylogger so my website is misunderstood.
So I suggest you spend 1 minute to check MD5, SHA1, SHA-256 to confirm that it is using the original file and has not been edited or inserted any baby. Whoever didn't check but came up and said that his father broke his mouth :v
Tool Troll Hack Follow Facebook Hash Code
MD5:

B0FA1089267405D77E1393774752A37B

SHA1:

ABFDC7533B627F2345BEB6A3F64987E3ECED85C5

SHA-256:

C1726C994EDB0DDD34DBF52238E087A90E190CFD2369F95CF31C3FD1E82F26FD
Decompression pass: anonyviet.com
Any ideas please contribute to Team
Thank you to everyone who followed
Good luck