Dell laptops with huge RAM are always sought after by gamers, not only providing a perfect user experience but also making all operations smoother and creating eye-catching action scenes during the game experience.
Join the channel

Telegram

belong to

AnonyViet

???? Link ????
Summary of Dell laptops with good RAM capacity
The Dell brand constantly launches quality product lines to bring the most complete and wonderful experience to customers. Below is a summary of the lines Dell laptops Has good configuration, huge RAM capacity for customers to refer to!
Dell Inspiron laptop popular segment
Dell Inspiron laptops are known as one of the most popular laptop lines of the Dell brand. Dell Inspiron lines are equipped with a variety of capacities RAM from 8GB, 16GB or 32GB. For example, the Inspiron 16 Plus laptop with up to 16GB of RAM provides a great experience when handling large files and multi-tasking smoothly.
Dell Vostro laptop solutions for businesses
Dell Vostro laptops are said to be the solution for many office workers, with 8GB, 16GB and 24GB as three RAM memory options to meet users' basic to advanced needs. In particular, 24GB RAM comes from high-end models such as Dell Vostro 7620 for a complete experience from handling heavy workloads more smoothly.
Dell XPS laptop provides a perfect experience
When it comes to laptops with great configuration, it is definitely impossible to ignore Dell XPS laptops. Three RAM memory options announced by the company are 8GB, 16GB, 32GB. At first, Dell XPS only focused on processing performance to serve business customers. Over time, XPS has improved in performance and premium, thin and light design to meet the needs of both business customers and individual consumers. Typically, the Dell XPS 15 9520 laptop has 64GB of RAM, which helps in impressive multitasking, responding well to more demanding applications.
Dell Alienware laptop suitable for gamers
Dell Alienware laptops are designed specifically for professional gamers. The product is equipped with a minimum of 16GB of RAM and up to a maximum of 64GB. Typically, the Dell Alienware M16 laptop line with 64GB of RAM allows gamers to operate games without worrying about lag, downloading games is also extremely easy with super large storage space. That is the reason why this Dell laptop line deserves to be a "companion" to help gamers fight all heavy games.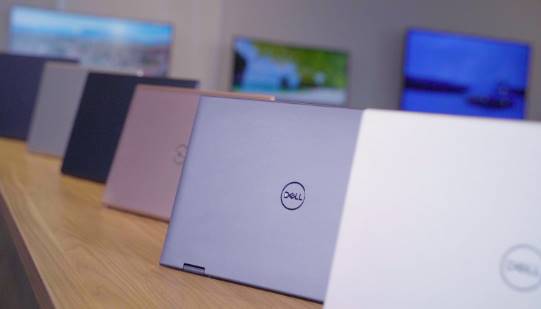 Dell Precision laptops for professional tasks
Dell Precision laptops are designed to perform professional tasks such as rendering, graphic design, video rendering, etc. Because the product is equipped with a huge amount of RAM, the minimum is 16GB and the maximum is up to 16GB. up to 128GB. With 128GB DDR5 RAM as equipped in the Dell Precision 7670, the product line can handle all today's advanced graphics applications as well as allowing to store images and videos in extremely large spaces. Videos will also be rendered better than machines with low RAM.
Dell Latitude laptop ideal choice for business people
Another Dell laptop option worth considering next is the Dell Latitude. You'll have a choice of RAM memory from 8GB, 16GB and 32GB, with high-end hardware to support optimal workflow. With up to 32GB of memory as equipped on the Dell Latitude 7330 series, the product line helps graphic designers to comfortably multi-task on graphics software without worrying about lag.
Dell G Series Laptops
Not only resonating in the business, but Dell G Series laptops are also highly appreciated in the gaming segment. Because, four RAM options are 8GB, 16GB, 32GB and 64GB to meet the needs of playing games from simple to complex. Not to mention the Dell G16 laptop with 32GB of RAM for a surreal playing experience. The incarnation of the character in the game will be pushed to the top with sharp images, large storage capacity, so no worries about lag.
Reference price list for Dell laptops
| | |
| --- | --- |
| Product line | Average price range |
| Dell Inspiron Laptop | 12,000,000 – 30,000,000 VND |
| Dell Vostro Laptop | 13,000,000 – 30,000,000 VND |
| Dell XPS Laptop | 55,490,000 – 79,990,000 VND |
| Dell Alienware laptops | ~51,990,000 VND |
| Dell G Series Laptops | ~36,790,000 VND |
| Dell G Series Gaming Laptop | ~28,990,000 VND |
Above is a summary of Dell laptop lines. Hopefully the above article can help you choose the Dell laptop line that best suits your needs.