What if you could just learn Google Cloud free, but also can get gifts from Google. Sounds great, right? Google Cloud has partnered with Qwiklabs to launch The Arcade 2023 program. Here you can do labs and earn skill badges. The badges are converted into points to redeem Google Cloud gifts including backpacks, T-shirts, mugs, laptop shockproof bags, etc. In this article, I will guide you to participate in this The Arcade 2023 program. .
Join the channel

Telegram

belong to

AnonyViet

???? Link ????
About The Arcade 2023
Actually The Arcade 2023 has been started at the end of 2022, I just found out, so I can introduce it to you now. But don't worry because I guess this event will end near the end of 2023.
Each month, The Arcade will introduce two new games: a basic level game called "Level 1" and another more advanced game called "Level 2". The special feature of this program is that you don't need credits, which means you can join The Arcade for free. But this free level only applies to Lab lessons in the game.
Throughout 2023, these games will cover a variety of topics to help you explore the full range of Google Cloud products and technologies, such as BigQuery, Firebase, Kubernetes, MongoDB, and more to test your knowledge. your knowledge and skills.
Each game includes 8 to 15 labs to build your Cloud skills. If you're new to Cloud, I recommend starting at Level 1, but you can play both games as well.
Certain labs included in The Arcade will earn you skill badges. Skill badges are like miniature versions of certificates that help you demonstrate your skills in solving real-life problems in the Cloud. From April 1 to June 15, 2023, for every 3 Skill badges you earn, you'll earn 1 Arcade point.
Each game includes one or more labs. Labs are designed to test the skills you've learned. Of course there will be no instructions, no steps, it's just a real-life case scenario for you to deal with. If you think you won't be able to complete the lab the first time, don't worry, you will be given advice on learning the Skill Badges needed to complete the lab.
In addition to the games you can play on The Arcade, you can also join the monthly quiz challenge (Trivia). These challenges are designed in the form of tasks, including labs on a specific product or tool and related questions. When you complete the quiz challenge you will get 1 Arcade point.
I've heard a lot about Arcade points, so can you guess what it's used for? Of course, it can be used to exchange gifts. This season's gifts are also quite attractive, specifically, you can see on the homepage.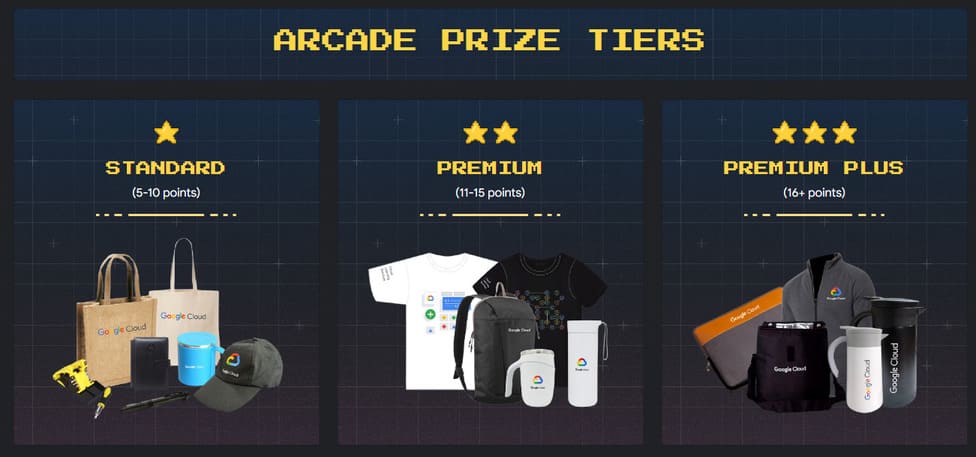 If you complete 9 skill badges, you will get 3 points, 2 more games and 1 more Trivia is 6 points, enough to change the Google Cloud hat or cup. If you are wondering how much is 2 t-shirts, it costs 11 points. That's enough introduction.
How to register for The Arcade 2023
First, visit the homepage of The Arcade 2023 here. Then enter your email and click "Subscribe".
All you have to do is wait for the confirmation email to join Arcade. Remember to check in spam, I don't understand why all google emails are sent to spam.
If you have any difficulty in learning, you can find help or ask questions on the Google Cloud forum. here Please.