How to improve RAM?
Variable USB wall RAM is one of the measures to help your computer work faster, helping to access data faster. But not everyone knows how to do this.
Join the channel

Telegram

belong to

AnonyViet

? Link ?
Today,

ANONYVIET

will guide you a few steps to improve RAM on Windows 10 with just a USB without having to buy new RAM.
Why can you improve RAM on Windows 10?
You may think you are lying, but you can believe it to be true by using ReadyBoost. One of the new features introduced in the Windows Vista version, this feature was widely promoted by Microsoft at the time. Allows the user to use a flash drive (USB) to virtual RAM to improve speed and performance for Windows.
Minimum requirements when using ReadyBoost
Standard USB

2.0 and up

. (3.0 is best)
The capacity of the USB must be higher

1 to 3 times

compared to Ram.
If the Ram in your computer is 4GB, then the USB

at least

must be 16GB (even if USB is not too expensive now, so you can easily invest).
Must be formatted

NTFS

or

exFAT.

If you choose to use ReadyBoost, keep in mind that the read/write speed of the USB is the same as the performance improvement you will get. If a USB is "aged" or has a small capacity, slow read and write speed, you will not be able to improve the performance of the computer. And Windows won't allow ReadyBoost to be enabled on a supposedly slow USB.
Instructions to activate ReadyBoost
Step 1: Connect Micro-SD or USB in computer
Step 2: You open File Explorer up, right click on USB select Properties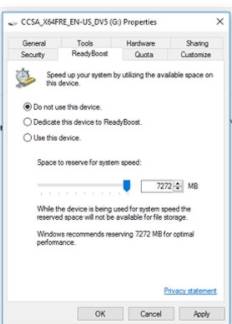 Step 3: Select Use this devicethen drag the slider to the amount of space you want to convert to storage RAM. You should choose the highest mode to improve the operating speed of your computer. Then click OK.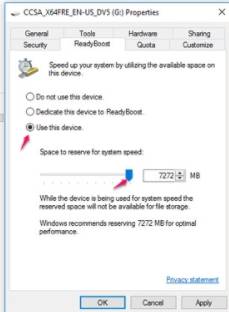 With just three simple steps, if your computer has 2GB RAM For example, if your USB drive is at the top of the list in terms of read and write speed, it will improve the speed when opening many applications or applications that require a lot of RAM will now run smoother.
Instructions to disable the ReadyBoost feature
Step 1: Connect Micro-SD or USB in computer

Step 2: You open File Explorer up, right click on the USB select Format
That's it, you have completed the process of disabling the feature ReadyBoost. Please proceed to do it now to improve the speed of your computer.
Good luck
AnonyViet – better And better