Following the trend of Avengers: Endgame, Google has given Thanos an extremely mysterious power. With just one fist, Thanos can destroy Google – the world's largest search engine. This article will give an overview of Avengers: Endgame and who Thanos is. And how to hack Google with Thanos.
Join the channel

Telegram

belong to

AnonyViet

? Link ?
What is Avengers: Endgame? Who is Thanos?
Avengers: Endgame (English: Epilogue) is a movie in the Marvel Super Heroes series. This is the 4th part of the Avengers. The contents of this section are:
Thanos is the villain in the Avengers movies. He possessed the infinity gauntlet, and killed more than half the world. After the returning superheroes from other planets, they joined forces to get the Infinity Stone back from Thanos. Only possessing the stone can defeat Thanos. The whole group of superheroes find Thanos' planet hiding to attack him. But all the stones were destroyed by Thanos. At the end of the movie, Thor used Stormbreaker to finish off Thanos.
Who is Thanos? Thanos' biography
Thanos is a fictional character created by the creator of the Marvel series. Thannos is the villain strongest in the universe. He has clashed with many Marvel superheroes but no one has been able to kill him.
According to the biography, Thanos was born on the planet Titan. Unlike others, Thanos has a mutant body, gray skin, and sluggish body. With his ugly appearance, he lives separately from everyone and his hometown. Growing up, Thanos indulged in murderism. His power was continuously increased by the scientific knowledge from the school. Thanos himself hired some children to form the infamous pirates.
Thanos' main goal is Collecting the Infinity Stonesc to attach Infinity Gloves. Whoever possesses the full set will have infinite power and can destroy the universe. To do this, Thanos teamed up with Loki and Ronan the Accuser, to invade neighboring planets.
However, Thanos' group was defeated when fighting the group of Super Heroes. And the Avengers movie continues to follow each other to 4 parts like today.
P/s: Thanos can Hack Goole with Thanos' Infinity Gauntlet
Thanos Hacked Google With Just One Fist
Google has caught up with the trend of EndGame, the summer blockbuster of 2019. And Google has given the power to Thanos with what ordinary people can't do. With just one snap, Thanos can make Google search results disappear in an instant.
To test the power of Thanos, you can follow these instructions:
Step 1: Go to search for the word "Thanos" on Google. Or go to this link: Thanos
Step 2: Click on Infinity Gloves appears on the right.
Wait a minute, the gloves will self flick 1.
At this point, you will see search results will disappear on the screen. Finally the screen will go blank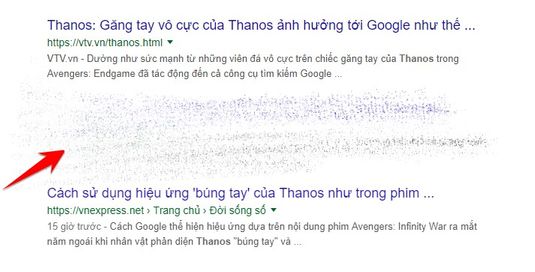 In order for the results to display normally again, you Click on Infinity Gauntlet 1 and a half times.