The Certified Appssec Practitioner (CAP) is an application security knowledge test. When you complete the test, you will be granted a certificate and use that certificate to apply for jobs in secure positions, Pentest … in addition, you can Upload the certificate to LinkedIn to beautify your CV.
Currently, the Certified Appsec Practitioner (CAP) exam fee is $100, but you will get free exam if using Coupon. Voucher validity is only about 9 days, so you need to register early. Once you have the Voucher, you can take the test at any time.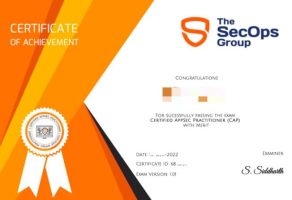 What is the Certified Appsec Practitioner (CAP) exam content?
His knowledge is quite broad, but also includes basic knowledge, if you study through CEH or Security+, you can easily pass the Certified Appsec Practitioner.
You can practice to improve your knowledge through the security course AnonyViet sharesthen take the test and answer questions about:
Input Validation Mechanisms
Blacklisting
Whitelisting
Cross-Site Scripting
SQL Injection
XML External Entity attack
Cross-Site Request Forgery
Encoding, Encryption and Hashing
Authentication related Vulnerabilities
Brute force Attacks
Password Storage and Password Policy
Understanding of OWASP Top 10 Vulnerabilities
Security Best Practices and Hardening Mechanisms.
Same Origin Policy
Security Headers.
TLS security
TLS Certificate Misconfiguration
Symmetric and Asymmetric Ciphers
Server-Side Request Forgery
Authorization and Session Management related flaws –
Insecure Direct Object Reference (IDOR)
Privilege Escalation
Parameter Manipulation attacks
Securing Cookies.
Insecure File Uploads
Code Injection Vulnerabilities
Business Logic Flaws
Directory Traversal Vulnerabilities
Security Misconfigurations.
Information Disclosure.
Vulnerable and Outdated Components.
Common Supply Chain Attacks and Prevention Methods.
Sign up for a 100% free Certified Appsec Practitioner (CAP) Voucher
To receive the free Certified Appsec Practitioner (CAP) exam, register for the exam at secops.group Press the button Buy Now
In the registration section, click on the box Have a coupon? Click here to enter your code and enter the code 100-OFF. If you see the payment remaining $ 0 is successful.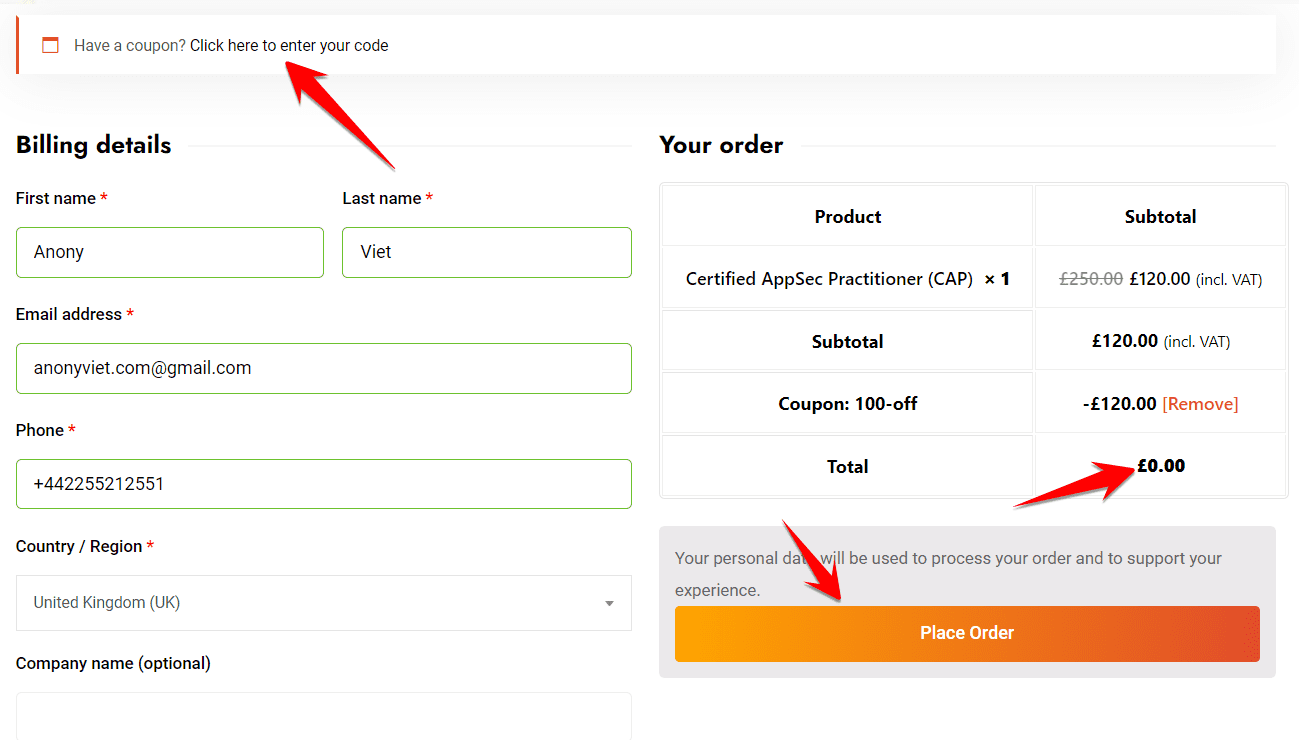 When you sign up, you will receive 1 email confirm: Your The SecOps Group order has been received!"
Continue to wait 1 day to receive 2nd email titled: Exam Information (Certified AppSec Practitioner (CAP)). When you receive this letter, you can take the Certified Appsec Practitioner exam for free.
How to take the Certified Appsec Practitioner (CAP) exam?
After receiving the 100% free Certified Appsec Practitioner Exam Voucher, please go to the link https://candidate.speedexam.net/forgotpassword.aspx?site=thesecopsgroup
Enter the registered Email to create a password for the account. Check your email, click on the link to create a password.
Continue to the page https://candidate.speedexam.net/signin.aspx?site=thesecopsgroup to start the test. Access Menu Upcoming Exams -> Take Exam

Before taking the exam, the Web site will check if your computer is eligible for the test. For example, is Javascript enabled, is JAVA supported, screen resolution, Webcam, Microphone.
Note: When taking the test, you must open the Webcam and Micro, do not click outside the browser scope, do not minimize the browser …
If you violate, you will be banned from taking the exam, in my opinion you should use a virtual email created to register a little more Certified Appsec Practitioner vouchers to save if you fail the exam.
Answer 40 questions you see here100% guaranteed pass.