The Department of Telecommunications under the Ministry of Information and Communications has just held a meeting to discuss the incorrect information about the phone sim. Accordingly, in order to ensure the correct implementation of Regulation No. 6 of the Prime Minister, from now until the end of March 31, mobile subscriber numbers must have information that matches the National Database. About locking sim If it is not the owner, many parties have already made it clear. So in this article, we will learn a new form of sim lock scam.
Impersonate the Department of Telecommunications to scam sim lock
Only a few days after the official announcement of the official sim lock, the Department of Telecommunications has also recorded many cases where users received calls claiming to be from the Department of Telecommunications with fraudulent content. phone sim lock. Specifically, these subjects claimed to be on the network side, calling to warn the victim about the unauthorized sim lock. The purpose of target groups is to ask victims to provide identity information.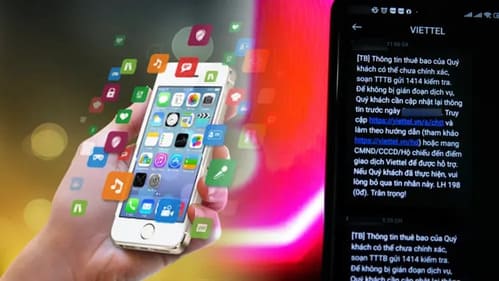 If the victim provides citizenship information, they will continue to threaten the victim and say that the victim's subscription will be blocked for the next few days. Taking advantage of people's panic, fear and not updating new knowledge, this target group will continue to ask victims to follow the steps they instruct. These steps can be transferring money to their account number or hijacking the control of the phone sim. At this point, they will be able to receive an OTP from your phone number, this OTP code can be a banking transaction or any other financial service to redeem themselves.
These are completely scams taking advantage of people's fear. The network operator will not directly notify the phone sim lock through the call. And above all, when the sim is locked, you just need to go to the nearest sim phone store to re-register your new personal information.
You can also easily check the information of the phone sim in use by composing a message with the following syntax: TTTB and then send it to Switchboard 1414 (free of charge for texting).
This trick is not new, but over time it will transform into many different sophisticated forms. However, you can easily see that the common point of these scams is that they all hit people's panic and fear. Because usually people will update their knowledge more slowly, making it easy to become a target for these criminal groups. So in order not to miss any latest technology information, please follow Anonyviet fanpage here Please.