Recently, Apple officially released it iPadOS 17, the latest version of the company's tablet operating system. iPadOS 17 brings many new and improved features to users, helping them enjoy a great experience on their devices. In this article, let's learn about the outstanding new features of iPadOS 17 and devices compatible with this version.
Join the channel

Telegram

belong to

AnonyViet

???? Link ????
Outstanding new features of iPadOS 17
Stage Manager allows video calling on the secondary screen
Stage Manager is a new feature that helps you manage your applications and windows effectively. This makes it easy to multitask, for example watching video calls on the secondary screen and doing other tasks on the main screen without being disturbed.
Enhance support for learning and creativity
iPadOS 17 is committed to bringing many new tools to learn and create more effectively and flexibly, such as: Apple Pencil to write and draw on the screen iPad; Pages, Numbers, and Keynote apps for writing documents, spreadsheets, and presentations. These are the advanced learning and creativity features of iPadOS 17.
Personalized lock screen
One of the highlights of iPadOS 17 is the ability to customize the lock screen to the user's liking. You can choose from a collection of beautiful wallpapers, your favorite ways to display your photos, and expressive fonts and colors to personalize the date and time on your lock screen.
Additionally, you can also apply styles to your lock screen photos, change color filters, tints, and font variations to match each other. With iPadOS 17, you can turn your lock screen into your own work of art.
Live activities is a new feature on iPadOS 17, allowing you to track hot events such as sports match scores, trip details by Uber, Grab,…
Interact with Widgets
Widgets are small widgets on your home or lock screen that let you see information at a glance and perform tasks right away with just one tap. With iPadOS 17you can use larger, interactive widgets that display information such as weather, time, date, battery level, upcoming calendar events, alarms, and time zone.
You can also drag and drop widgets to the desired location on the home screen or lock screen. Widgets are also color-adjusted to match the background image, optimizing readability and clarity of background images. With iPadOS 17, you can access important information in a snap.
FaceTime supports audio and video messages
FaceTime is Apple's free video calling app that allows you to connect with friends and family over the internet. With iPadOS 17, FaceTime will have many new and improved features, helping you chat more happily. You can leave a video or audio message if the recipient doesn't answer the FaceTime call.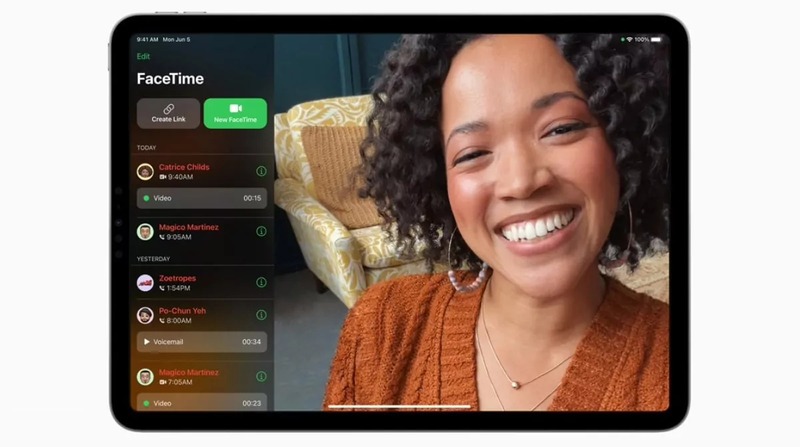 With Continuity Camera, you can take advantage of the camera and microphone on iPad and initiate a video call directly from Apple TV, or start a call on iPad and then switch to Apple TV. With iPadOS 17, you can communicate with loved ones in an easier and more enjoyable way.
The Health app comes to iPad
Health is an Apple app that allows you to track and manage your health. With iPadOS 17, the Health app has been brought to iPad with a design optimized for larger screens. You can view health information and recommendations, such as sleep tracking, physical activity, nutrition, etc.
You can also connect to smart health devices via Bluetooth or Wi-Fi to collect and analyze your health data.
Other updates
Screen management: allows more flexible adjustment of window position and size, helps users customize the workspace and supports integrated cameras on external displays.
Freeform app: with new drawing tools, add seams and shapes to any subject, plus Tracking for teamwork on the drawing board.
Siri: can be called out by saying "Siri" and continues to receive continuous commands from the user.
AirPlay: Sharing is easier, with the ability to automatically remember the user's favorite device.
Reminders App: provides a smart shopping experience with shopping lists that automatically group related items.
Privacy upgrades include Safe Communications, child protection, and sensitive content warnings for adults.
Devices compatible with iPadOS 17
iPadOS 17 is the latest version of Apple's tablet operating system, but not all iPad models can be updated to this version. According to Apple, iPadOS 17 is compatible with the following devices:
iPad mini (5th generation and later)
iPad (6th generation or later)
iPad Air (3rd generation and later)
iPad Pro (all models except 1st generation 12.9-inch)
To identify your iPad model from physical details, you can see the Apple Support article: Identify your iPad model. You can also check the current version of the operating system on your iPad by going to Settings > General > Information.
Epilogue
iPadOS 17 is a significant step forward for Apple in enhancing the user experience on tablets. With the new and improved features that iPadOS 17 brings, you can work, learn, entertain, and create more efficiently and enjoyable. If you own a compatible iPad, quickly update to iPadOS 17 to discover the interesting things it brings!