Yesterday, I shared the license key of ESET anti-virus software. But not everyone uses ESET. In addition to ESET, Avast software is also the TOP software in terms of quality. In this article, I will share with you the free license key of Avast software.
Join the channel

Telegram

belong to

AnonyViet

? Link ?
Avast owns a huge online library of Viruses. So Avast's safety can be more than 98%. This is also the reason why Avast has always maintained its name and competed with ESET.
Free Avast License Key
If you don't have one or want to see how good Avast is, download it from the link below.
Remember to skip the ad to support me.
Avast Security Antivirus license key
The KEY I share below has an expiry date until 2039. Applicable to Avast versions from 2012 to 2018 including Avast Free / Pro / Internet / Premier.
I have tested all 04 versions of Avast including:
Free Antivirus
Pro Antivirus
Internet Security (Network Security Edition).
Premier
All 04 of these versions, I entered the test KEY and activated it successfully. You can see your results right below.

Avast Internet Security has been successfully activated – Valid until September 20, 2031
Avast Primer has been successfully activated – Valid until September 20, 2043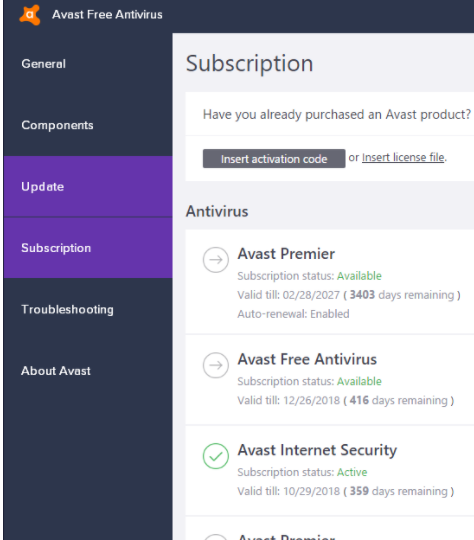 All versions I use work Activated.
Instructions to remove and activate Avast properly
If your computer is using Avast (Crack), you can remove it with the Uninstall tool. This is a tool developed by Avast itself, if you remove it manually, it will not be possible to clean Avast.
Once downloaded, use that tool to uninstall the current Avast on your device.
If you haven't downloaded Avast yet, download the trial version (link at the end of the article). There is no need to perform this uninstall step.
Make sure your Avast is still in trial mode before entering the KEY.
Download the zip file in the table below and double click on the license file (.avastlic) to enter the key (Wait a few seconds for it to generate the Key for you). In the downloaded file, there are many .avastlic files with different expiry dates for you to choose.

Note: The .avastlic files are the files that are storing the Avast license key activation code. Retrieved from genuine Avast-enabled computers. So there is absolutely no virus. You do not need to disable Antivirus software.
Wait until you see the place 'Valid until: ' When the date appears, press Activate.
Finally, open the software and enjoy.
Like Fanpage or follow Website for quick updates of good articles.
Good luck
Lmint.