If you study on Cousera, you know that this platform does not support many Vietnamese courses. It also provides you with a way to translate the course, but in my opinion, few courses are fully translated by the community. So to best support your learning process, today I will guide you to use the GlotDojo extension to translate videos in real time on Facebook. Coursera and many good learning platforms like Udemy, Youtube, Linkedin, Netflix.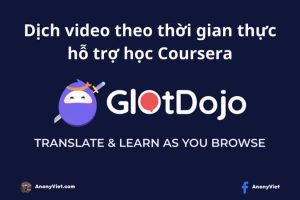 What is GlotDojo?
GlotDojo is a handy language learning and translation tool optimized for English, Chinese, Japanese, and real-time video subtitles.
GlotDojo is the product of eJOY Learning, a group of technology & language enthusiasts who aim to make language learning fun and easy. Since 2017, this organization has been supported by a community of users who use GlotDojo & eJOY English to improve their language skills and learn something new every day.
Translate Japanese, English, Chinese, Spanish and other popular languages
Support more than 70 languages
Compatible with video and text subtitles
Double click to translate and see the correct pronunciation
Quick word search on your favorite search engines
Glot Dojo makes watching movies useful by supporting subtitle translation on YouTube, Netflix, WeTV, Coursera, Amazon prime and many more sites.
Features that GlotDojo supports on video:
Bilingual subtitles & smart phonetics
Automatically translate subtitles and print subtitles
Auto Pause
Subtitle blur mode
Instant Meaning View
Mark video footage
Support keyboard shortcuts
Customize playback speed
Full support on some of the biggest movie streaming platforms
GlotDojo: Real-time video translation extension that supports learning Coursera
Step 1: First, visit the GlotDojo extension page here and proceed to install this extension into your browser.
Step 2: Next, you go to the course you are studying on Cousera. When you open the video you will see there is GlotDojo's icon in the bottom right corner. Click on it to open GlotDojo's custom interface.
Step 3: Here you press "Full settings".
Step 4: Part Upper subtitles subtitles are displayed higher than normal. Usually I will let GlotDojo display the original subtitles here. You can also customize the font size and color here.
Step 5: In section Quick translation is the display of translated subtitles you want. If you want to translate the original subtitles into any language, you can choose in Translate To Please. Don't forget to choose Auto Translate Let GlotDojo automatically translate new subtitles. You can also choose the font size and color.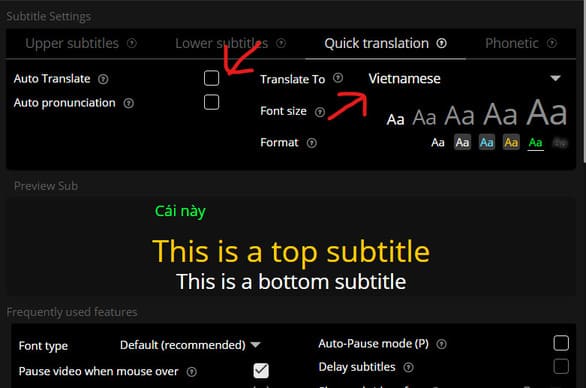 So that's it then. This is my result.
Good luck to you on your learning journey. Not much, just 1% better than yesterday.