A personal Facebook bio is a brief 101-character line of information. Here you will introduce yourself to everyone. Usually, biographies will write about where you live, your hometown, your spouse, or a brief quote about yourself. In order to be a standout Facebook profile, some of you like to put special characters to make the profile page more vivid. Hence creating a Facebook profile is essential. Today will guide you to do Music player biography On Facebook.
Join the channel

Telegram

belong to

AnonyViet

? Link ?
How to create a Profile with a personal Facebook music player
With the icon is the music player running, with the buttons Play, backward, forward, repeat, running time. New people looking at it will thought your Facebook was playing a song some. But actually these are just special icons put together, creating a complete music player. You just need to change the song title to your liking. To create Facebook profile as a music player, You can follow the instructions below:
How to create a Facebook profile on a computer
To access edit Facebook Profile, you need to go to my personal page. Look at the column on the left and select Add Profile:
In section your description, you copy the special characters of the player below and paste it in:
Vô Cùng (Vì Anh Thương Em)
00:43 ━●━━━━━─────── 5:28
⇆ㅤㅤㅤㅤ◁ㅤㅤ❚❚ㅤㅤ▷ㅤㅤㅤㅤ↻
Then tap Save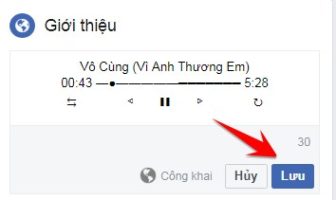 Now, your personal Facebook page will have a music player, like playing a song.
You can edit the song title: Vietnam national anthem to whatever name you like. Note that this is just a character to look at, not play music.
How to create a Facebook profile on your phone
Similarly on computers, you can use the Facebook App on iPhone or Android. Go to your personal page. Select Add bioif the Profile already exists, tap to Edit Profile.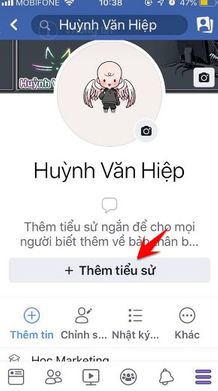 Copy characters play music Go to the Profile section and press the . button Save
Quốc ca Việt Nam
00:43 ━●━━━━━─────── 5:28
⇆ㅤㅤㅤㅤ◁ㅤㅤ❚❚ㅤㅤ▷ㅤㅤㅤㅤ↻
The personal Facebook interface when adding a Profile with a music player will look like the image below: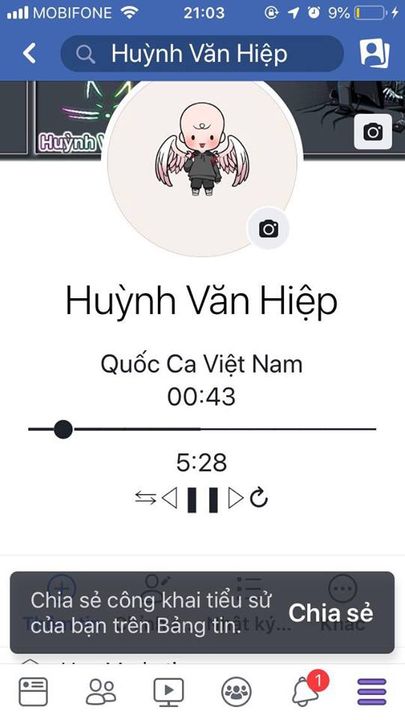 Looking at your bio is really eye-catching, isn't it? Besides, you can copy the special characters are extremely beautiful to name Facebook or profile. These characters are often used to name the game Lien Quan, beautiful characters named TikTok, online games …. Let's create an extremely impressive Facebook page for your friends to admire.