TotHost's loving Valentine's Day promotion event on February 14: Buy a TOT 2G VPS with only 80K or top up 80K – get 200K when buying/reloading in groups of 2. Get all your friends to join now!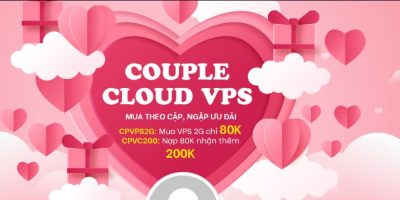 Program introduction
Program name: "Couple Cloud VPS"
Time: February 14 – 19, 2023
Promotion form:

Discount VPS service TOT 2G
Donate money to promotional account

Audience: The program applies to all TotHost customers including new and existing users.
Content
During the event period, all accounts (including new registered accounts) when buy/recharge in pairs (group of 2 people) You will be selected to receive 1 of the following 2 offers:
CVPPS2G: Buy VPS TOT 2G (valued at 323,400, including VAT) only 80K/month. Configuration: 2 vCPU, 2 RAM, 40 GB SSD
CPVC200: Get a 200K voucher when you top up 80K. With this voucher, you can freely use it to buy services: VPS SSD, Cloud Server PAYG (VPS charges by the hour), Cloud Shared Web Hosting
Instructions to receive the "Couple Cloud VPS" offer
Follow these simple steps to get 1 month of VPS or voucher to TotHost account balance:
Step 1: Invite friends to pair up (old friends, new friends are okay). If you don't have anyone to invite, join the Telegram TotHost Community group to find a pairing partner: https://t.me/tothostvietnam
Step 2: Fill in the Couple's information this form to register for the "Couple Cloud VPS" offer
Step 3: Buy 2G TOT at a special price or receive a voucher of 200K CZK
Note:
The program applies simultaneously with TotBro: you will receive an additional 20,000 when you invite 1 more person to use TotHost: https://tothost.vn/totbro-referral/
The bonus will be added within 3 -5 hours, counting from the time you successfully register/load. If you have to wait more than 180 minutes, contact now with TotHost for support.
The VPS package and voucher will be added directly to the Customer account on TotHost system after completing all the steps as instructed.
Voucher 200,000 is valid for 30 days from the date it is added to the account.
The program is not exchangeable for cash.
Any questions about program details, do not hesitate to contact TotHost: