Microsoft completely removed Movie Maker – a simple video editing software from Windows 10. This is quite understandable when it is too old, the features are not outstanding compared to other professional software. However, in Windows 10 update version 1709, Microsoft has integrated in the Photos application a great video editing software for beginners. I will guide you Create videos without software on Windows 10!
Join the channel

Telegram

belong to

AnonyViet

???? Link ????
Today, AnonyViet will share with you 6 extremely interesting features of this software!
To edit a Video The first thing to open the editor, right click on the video => Open with => Photos.
1. Trim video
This is the most basic feature that any video cutting software must have. This work is quite simple, you just need to drag and select the starting point – the end point to cut and save.
Step 1: After opening the video with the app Photos above Windows 10please choose as shown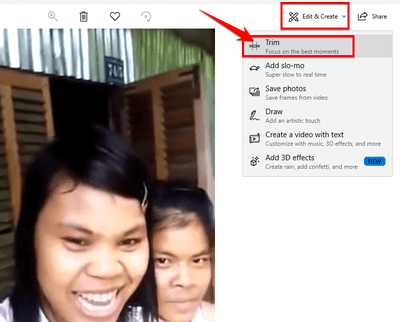 Step 2: Select the start and end points of the video to cut then press Save As.
2. Slow down video (Slow motion)
Like trim, this feature makes it possible to slow down the video more than the actual speed. This effect helps to give the viewer an impression of the scene.
Step 1: Please select the feature Add slo-mo in the menu panel Edit & Create.
Step 2: Customize the appropriate speed : Normal (human icon, turtle is extremely slow)
The two blue bars are used for slow cuts.
3. Cut photos from videos (Save Photos)
Instead of having to capture the screen from a video clip, this feature will help you save these images.
How to : Choose Edit & Create => Save Photos and drag the image adjustment slider.
4. Draw on video
Adding funny drawings will make the video more eye-catching. You are free to get creative from this feature. Please select the Draw function in the menu to access and use this feature.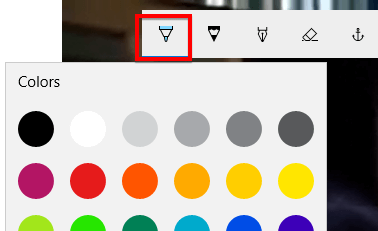 The strokes will automatically fade after 3 seconds.

5. Add 3D effects to videos
This is a new feature added by Microsoft with many beautiful and shimmering effects such as falling autumn leaves, flying bubbles, fireworks, etc.
6. Complete video editing
This is the last feature and also the most complete of the remaining features. You can see the interface similar to Movie Maker. The menu bar includes quite a few functions that can serve your basic video editing needs: Trim, Resize, Filters, Text, Motion and 3D Effect.
The effects are also pre-built, so it's very convenient for beginners
Epilogue
This is extremely useful software for beginners or those who have a weak machine that is not configured enough to run heavy software such as Adobe Premier or Davinci Resolve.
N1412.