When creating Facebook, everyone wants to have many friends in their nick. But over time, there are some nicks that are inactive, some you don't know. And you want to unfriend them. Normally your action will be to click on each person's nick and choose to unfriend? With the number of hundreds of nicks, it must be done until the Congo New Year. So how to be able to unfriend mass quickly?
Join the channel

Telegram

belong to

AnonyViet

???? Link ????
AnonyViet would like to share an extremely fast and safe solution for you to Fastest unfriending on Facebook. That is using an Extension on Chrome called Friends Removal. Especially this tool also helps you filter out your closest friends on Facebook.
Features of Friends Removal
Friend Remover helps to remove inactive accounts from your Facebook friends list. Quickly and easily unfriend with 1 click. In particular, it allows you to choose which friends to delete and which ones to keep. Features include:
Control who's on your friends list. Quickly show all your friends in descending order.
Click the toolbar button [Inactive Friends Removal] to open the friends list window and start loading all your friends. It may take a few minutes if you have too many friends.
Check who interacts with you the most on Facebook.
How to use Friends Removal to Unfriend in bulk
First you need to install the Extension Friends Removal – Unfriend all at once 2017 at Chrome or Coc Coc stores.
Once installed, you will see a red icon at the top of the browser. Click on the icon red let the Filter tool out your friends list

Continue to click on the friends you want to unfriend. A list of deleted friends will appear next to right hand. Next, click Remove Friend .
The processing will take place in a few seconds, if the number of you is large, you may have to wait up to a few minutes.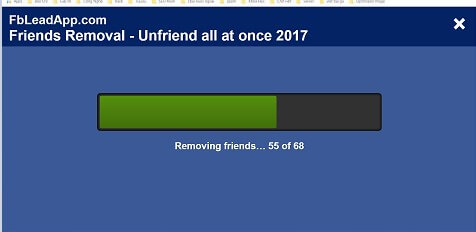 If completed, you will receive a message as shown below. Now go back to the friends list to check, you will see the number of friends reduced as you want.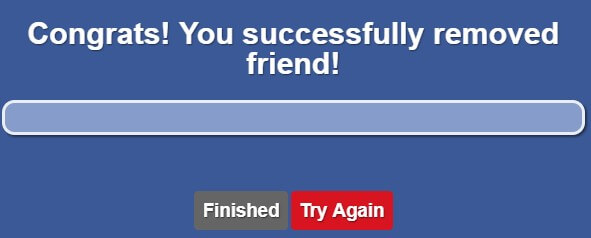 So just a few basic 3 clicks, you can delete hundreds of friends in just a few seconds. This is the fastest and most convenient mass unfriending method that you should use. Also you can use Friends Removal to get to know Who is the closest friend? your friends on Facebook by seeing who is listed first on your friends list.