Gmail is the largest email system today with billions of emails sent every day. Each of us has at least 1 Gmail for ourselves to receive documents when needed. However, our Gmail inbox is always attacked by spam emails, most of which are ads. I will guide you how to delete unread mail in Gmail.
Join the channel

Telegram

belong to

AnonyViet

???? Link ????
After a period of not using or not checking Gmail mailbox. It will easily be filled with unread promotional mail. With just a few steps, you can clean up this mailbox. You don't need to spend time deleting each one anymore.
This may seem like a no-brainer, but it's actually very important. When you go to work or the office, keeping your Gmail inbox clean is a must. Inbox must be neat so that you can easily manage and search when needed. Even some cases due to too many spam mail mess up the mailbox up very uncomfortable and unprofessional.
Instructions to delete unread mail in Gmail
First, you need to log in to the Gmail mailbox manager. We will use the search command to find and delete unread mail in the mailbox. In the search box at the top, enter the following command:
in:inbox is:unread
or
in:unread
After entering the above command line, press Enter. Now you will see a list of unread messages displayed as shown below. Select the icon empty squares in the upper right corner to select all currently displayed mail.
After selecting all the messages you will see a message that says the following: "All xx chats on this page are selected". Next to it will be a line Select all chats that match this search.
Select that line to select the entire unread conversation so far.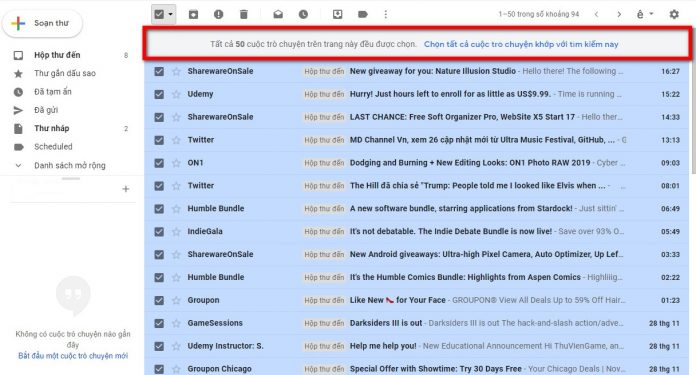 Then you will see the message change to All chats in this search have been selected. Now just press the icon Trash can on the toolbar to delete is okay.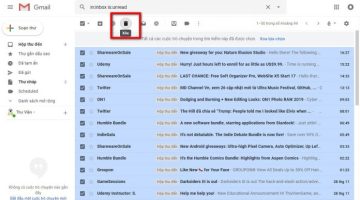 Confirm the message and proceed to delete the message.