If you are a person who is nearsighted or eyestrain when sitting in front of the screen for too long. The strong light from the screen makes the eyes feel uncomfortable. Then reducing the screen brightness in combination with turning on Dark Mode is extremely important. This will help your eyes can relax more when working at the computer for a long time.
Join the channel

Telegram

belong to

AnonyViet

???? Link ????
With the nature of the job, you have to use the browser often or simply surf facebook, read the newspaper. The Dark Mode utility on Chrome will help you turn all web pages into dark mode. From here, you will no longer have to worry about having to look directly at white light when working or playing.
In addition, you can refer to the article The easiest way to change the Theme for Chrome browser
Enable Dark Mode extension on Chrome
First, you need to install Extension Dark Mode on Chrome.
Then tap Add to Chrome
Confirm by clicking Add utilities.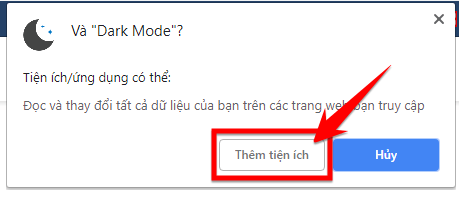 Now, please restart Chrome. Go to any web page and click on the Dark Mode switch icon.
Now, the entire web page has turned black.
Conversely, if you want to turn it off, click on the Dark Mode utility switch again!
Epilogue
Thus, AnonyViet has shown you how to turn on Dark Mode with all websites on Chrome browser. If you are a person who often works in low light at night (like me). Then lower the screen brightness to the lowest. Combine with turning on Night Light on Windows 10 and activating Dark Mode to protect your eyes from blue light from the computer screen during work!
N1412.