Nowadays, social media is an indispensable part of everyone's life. However, using a lot of time on social networks will have a negative effect on your health. This is researched by scientists and Facebook has supported users to manage the Time you are on Facebook.
Join the channel

Telegram

belong to

AnonyViet

???? Link ????
What's the Time You're On Facebook feature?
New feature to help you keep track of how much time you've spent Facebook in how long. And when you realize you've been spending too much time on Facebook, you'll then have a plan to limit your use. This will help us have a more balanced life between real and virtual. Helps you to have a better physical and mental clarity when using the rest of the time for exercise instead of focusing on the phone.
How to use Time You're on Facebook feature
The first step is to open the Facebook app and tap the 3 dashes icon in the top right corner.
Scroll down a bit select Settings and Privacy.
In third place is the feature Your time on Facebook new. Just tap it to get started.
Here's what this new feature looks like:
You will get statistics average time in 1 day you use Facebook. Below is a column chart with time data days of week. You touch the columns to see the time spent on Facebook.
Scrolling down a bit will be a tool to save you time when using Facebook. With specific features: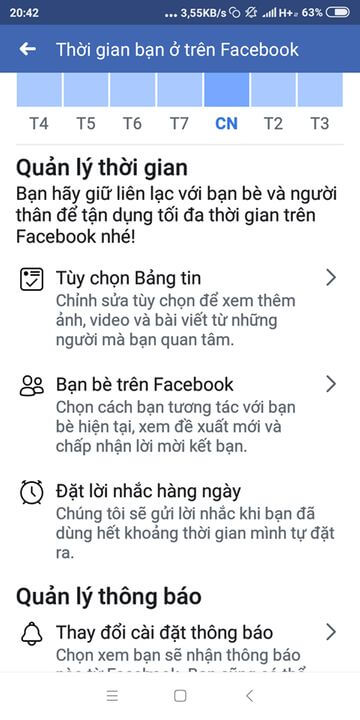 Message board options:
Prioritize viewers:

Allows you to prioritize news of friends or groups, the page is displayed first.

Unfollow people to hide their posts:

to restrict that person's news from showing in your news feed.

Reconnect with the person you unfollowed.

Manage snooze settings:

Show the list of friends, groups, pages that you are hiding, and have hidden.

The app is hidden from the feed.
Friends on Facebook: Similar to the Friends function.
Set daily reminders: New Facebook feature. Allows you to set notifications when you exceed your average time spent on Facebook.
Notification Settings feature:
You can enable or disable receiving notifications from Facebook. Also, you can turn off the notification sound if you don't want Facebook to disturb you.
Note
The statistics of Facebook usage time can only be applied to different devices. If you have 2 phones, your time on Facebook should be summed up on both phones.
With the "Time you are on Facebook" feature, you can take control of your time. Do not spend too much of your time on this virtual social network. Go out to breathe and socialize with more people to make life more colorful.