Google is an Internet company based in the United States. This company provides many users for free utility services and applications such as: Gmail, Google Drive, Google Photos, Google Map, etc. Which we still use in daily life. But when storing most of the data on Google. Can you imagine a day if Google had a system security problem or you simply got hacked/forgot your account? Downloading your Google data to your computer for backup is a necessity if you have a lot of data backed up on Google. The most important thing is to back up Gmail
Join the channel

Telegram

belong to

AnonyViet

???? Link ????
If this really happens, then all your data including emails, files, photos, videos, etc. will disappear under your account. Therefore, backing up all necessary data on the computer is very important. You should perform the download of Google data regularly so as not to lose it when there is a problem!
How to download all Google account data
First, please visit come in and sign in to your Google account.
Step 2: You choose item Data & personalization.
Step 3: Continue, look for the item Download, delete, or make a plan for your data and click Download your data.
Step 4: Here, you will see a list of Google services that contain your data. You can skip the applications if you feel they are not needed.
Press next to continue.
Finally, click CREATE ARCHIVE let Google create a backup and send it to your email.
Now, you just have to wait for Google's data file compression to complete. Note, the time of this process will be fast or slow depending on the amount of your Google account data. If you are just a normal user it will take about 30-60 minutes. But for longtime users with large amounts of data, it can take up to 3 days to complete.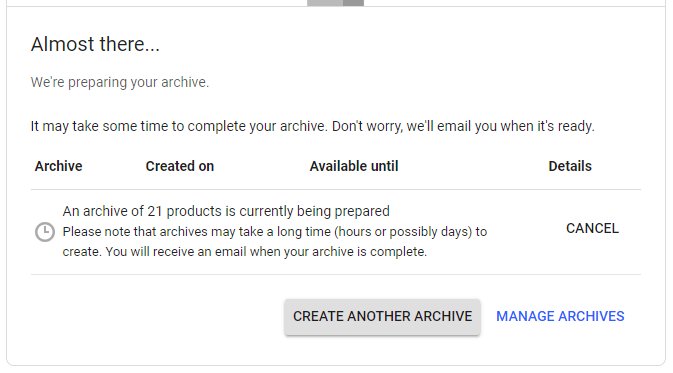 After the compression is complete, Google will automatically send a download link to your email. For some security reasons, this download link is only valid for 7 days, so remember to download it carefully!
Epilogue
Through a few simple steps, you can download the entire data package from your Google account to your computer. Thereby, helping users to protect their own data in the hard drive. And it will be easier to restore them anytime you want. Finally, downloading Google data will help you secure emails from Gmail email boxes, avoiding attacks by bad guys. You don't forget Backup Facebook data to your computer half okay.
N11412.