Secret chat is a security feature of Facebook Messenger. Only you and the person you're talking to know the content of the exchange. This message will be automatically deleted at the specified time. And no one can restore the message. It is very suitable for you to exchange information that defames others, or adultery… Please follow the instructions below to protect privacy yours!
Join the channel

Telegram

belong to

AnonyViet

???? Link ????
In April 2016, Facebook officially launched the feature Secret Conversations (Secret Conversation). According to the information provided, no one including Mark Zuckerberg, NSA or any security firm that can read your encrypted messages. That way you can rest assured of its security. However, this feature is currently only available on the Messenger chat app for Android and iOS.
How to enable message encryption (secret chat) on Messenger
Step 1: Open the Messenger app on Android or iOS, tap the profile icon.
Step 2: Scroll down and select the item Secret Conversations.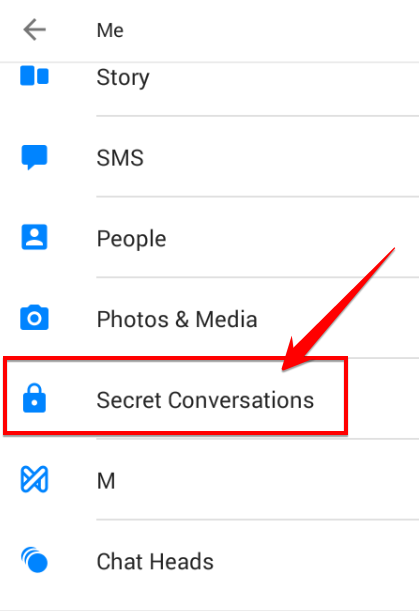 Step 3: In the section Secret Conversations, Please turn this feature on by pressing the switch and selecting TURN ON.
Step 4: To start a secret chat, select a friend and tap infomation in chat frame => Go to Secret Conversations.
With that, we have successfully created a secret conversation. However, if your friend the feature is not enabled hey they will Can't see the chat This. So tell them to turn it on.
Timer to automatically delete sent messages
Recently, Facebook has added a timer function to automatically delete messages to enhance security. You can try by tapping the stopwatch icon and selecting the time.
After sending the message, the time will count down and automatically delete the sent message.

Delete secret chats
To end the exchange of confidential information, you need to delete the content. By clicking on the . icon information as before and choose Delete Secret Conversations.
Epilogue
Thus, AnonyViet has guided you through simple steps to open a secret conversation right on Facebook Messenger. You can completely use this feature in internal meetings or to ensure the privacy of yourself and others. And can delete them if necessary.
N1412.